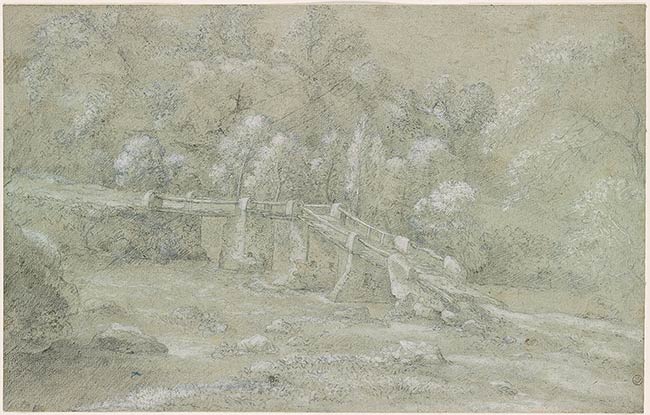 Wooded Landscape with Bridge
Black chalk, with white opaque watercolor, on blue paper.
10 1/8 x 15 15/16 inches (257 x 405 mm)
Purchased by Pierpont Morgan (1837-1913) in 1909.
Provenance:
Sir Charles Greville (1762-1832; Lugt 549); inherited by his nephew, George Guy, the fourth Earl of Warwick (Lugt 2600); his sale, London, Christie's, 20 May 1896; Charles Fairfax Murray (1849-1919), London and Florence; from whom purchased through Galerie Alexandre Imbert, Rome, in 1909 by Pierpont Morgan (1837-1913), New York (no mark; see Lugt 1509); his son, J. P. Morgan, Jr. (1867-1943), New York.
Bibliography:
Collection J. Pierpont Morgan : Drawings by the Old Masters Formed by C. Fairfax Murray. London : Privately printed, 1905-1912, I, 269 (as Claude Lorrain), repr.
Notes:
Watermark: none.
Formerly attributed to Claude Lorrain and 17th-century Italian School.
Associated names:
Lorrain, Claude, 1600-1682, Formerly attributed to.
Anonymous, Italian School, 17th cent., Formerly attributed to.
Greville, Charles, 1762-1832, former owner.
Warwick, George Guy Greville, Earl of, 1818-1893, former owner.
Murray, Charles Fairfax, 1849-1919, former owner.
Morgan, J. Pierpont (John Pierpont), 1837-1913, former owner.