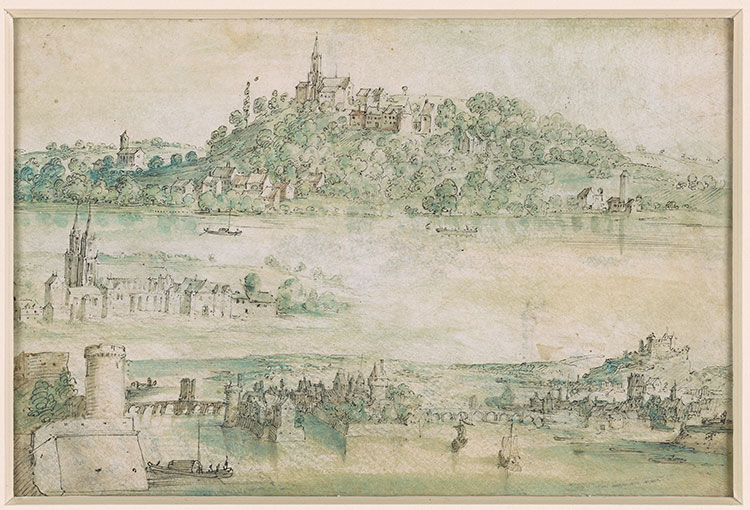 Attributed to Louis de Lincler
View of a town on a hill; Study of houses near a cathedral; View of a fortified town on a river. Verso: Two views of towns on a lake with a study of a tower
Pen and black ink, and watercolor on vellum.
4 9/16 x 6 7/8 inches (116 x 174 mm)
Gift of Mr. and Mrs. Louis M. Rabinowitz.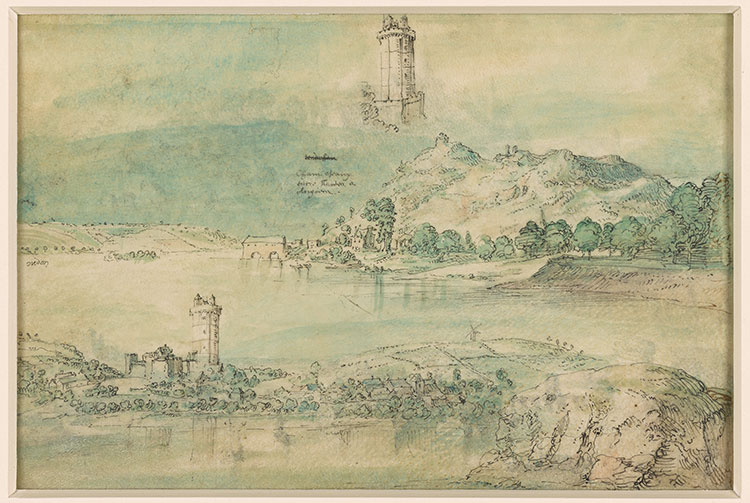 Inscription:
Inscribed in the hand of the artist in black ink at upper left center, "James?". On verso at upper center, canceled, "endosan", below, "chamoseaux entre Nantes et Angiers", at left center, "oudon."
Watermark: None.
Provenance:
Robert Prioleau Roupell (1798-1886), London; his sale, Christie's, London, 12-14 July 1887, nos. 909 and 921; Sir Francis Seymour Haden (1818-1910), London; his sale, London, Sotheby's, 15 June 1891?, nos. 560 and 556 (as W. Hollar); collection of the Princess Liechtenstein, possibly Elizabeth von Gutmann (1875-1947), wife of Prince Franz I, Vienna; from whom acquired by Mr. and Mrs. Louis M. Rabinowitz, 1948.
Bibliography:
A review of acquisitions, 1949-1968 / Pierpont Morgan Library. New York : The Library, 1969, p. 145.
Adams, Frederick B., Jr., comp. Fourth Annual Report to the Fellows of the Pierpont Morgan Library. New York : Pierpont Morgan Library, 1953, p. 59-62.
Notes:
The present double-sided study and 1953.4 belong to a group of landscape views depicting various towns along the Loire from a vellum sketchbook. These landscape views have previously been attributed to Wenceslaus Hollar (1607-1677), Israel Silvestre (1621-1691), and Georg Hoefnagel (1542-1600).
It seems that these views are the work of the virtually unknown L(ouis) De Lincler. De Lincler apparently traveled along the Loire Valley, recording in his sketchbook topographical views of Angers, Orléans, Saumur, Nantes, and other towns. Comparable drawings by the same hand are in the British Museum (1910,0212.108-110) and the Musee Carnavalet, Paris, among other collections. The seventeenth century engraver Francois Collignon produced a series of etchings after topographical views by De Lincler, including a print after the view of Angers in the British Museum (1910,0212.109).
On this double-sided sheet, the artist depicted several views in different registers on the same page, unlike the leaf containing views of Tours and Amboise (1953.4), in which the artist devoted a full page to vantages of major cities.
On the recto, the upper study shows a hillside town with a high church spire; below to the left of center is a detail of a church and convent; and at the bottom is a fortified city, partly on an island. The upper study represents Saint-Gemmes sur Loire, while the lower depicts Saumur. The verso contains rural views with fields and a windmill. These views are plainly inscribed Oudon and Champtoceaux, villages across the river from each other between Nantes and Angers. Oudon is a commune in Loire-Inferieure, near d'Ancenis, identifiably by the remains of the town's fifteenth century castle and tower. Champtoceaux, in the Cholet region of Maine-et-Loire, played an important role in the history of the Carolingians. The fortress was dismantled in fifteenth century but its ruins still remain.
Associated names:
Anonymous, French School, 16th cent., Formerly attributed to.
Roupell, Robert Prioleau, 1798-1886, former owner.
Haden, Francis Seymour, 1818-1910, former owner.
Liechtenstein, Princess of, former owner.
Rabinowitz, Louis M., former owner.
Rabinowitz, Louis M., Mrs., former owner.