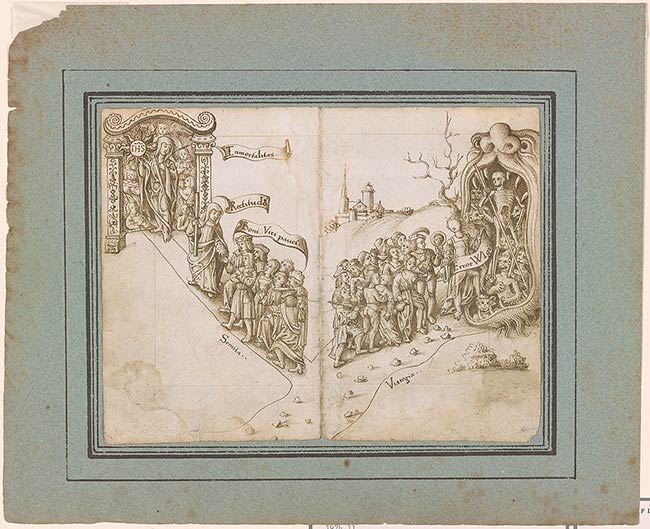 The Blessed and the Damned
Pen and brown ink on laid paper with margins ruled recto and verso in red ink, on two sheets joined together; traces of stitching.
6 1/2 x 8 3/8 inches (164 x 213 mm)
Gift of Charles R. Blyth, Jr.
Inscription:
Inscribed variously, in cartouches: "Inmortalitas, Rectitudo, Boni Viri pauci", and "Error WIgi"; beneath paths, "Semita" and "Viaregia".
Watermark: Crown over St. Catherine's Wheel, fragment (cf. Briquet 13542: Lyon, 1499), on left side of sheet.
Provenance:
Part of a Speculum principis (Prince's Mirror) produced for François d'Angouleme, later François I of France (1494-1547); sold intact at London, Sotheby's, 13 July 1937, lot 64, and sale, London, Sotheby's, 15-17 November 1937, lot 546; purchased by Maggs Bros., Ltd., London, and remaining intact until after it was sold in 1941 (see catalogue 709, no. 30); E. Korner, Esq.; Alfred Brod Gallery, London; Charles R. Blyth, Jr. (1883-1959), Hillsborough, CA.
Bibliography:
Ryskamp, Charles, ed. Seventeenth Report to the Fellows of the Pierpont Morgan Library, 1972-1974. New York : Pierpont Morgan Library, 1976, p. 163-164.
Notes:
The present sheet is from an unusual series of drawings made to illustrate a compendium of moral teachings based on ancient and modern aphorisms, witticisms, and precepts, appropriate for the instruction of a prince. The original manuscript had 37 drawings, a separate explanatory text, and inscriptions on the backs of some of the drawings. The entire manuscript was bound early with a 1511 edition of Josse Clichtove's Dogma moralium philosophorum. The volume remained intact until after it was sold by the London antiquarian book dealers Maggs Brothers in 1941. Thereafter, the binding and manuscript text were both lost and some inscriptions effaced. 33 of the drawings remained together in the collection of Ian Woodner and are now in the National Gallery of Art, Washington (For these, see Renaissance to Revolution: French Drawings from the National Gallery of Art 1500-1800, p. 20-23).
Jean Michel Massing has proposed that the manuscript was compiled by Francois Demoulins (1501-1524), a Franciscan monk, scholar, humanist who served first as tutor and then as chaplain to young Francois D'Angouleme, the future Francois I of France (1494-1547). The identity of the draftsman is unknown.
Formerly attributed to Maître aux Pieds-Bots, active in Lyons after 1508.
Associated names:
Maître aux Pieds-Bots, active after 1508, Formerly attributed to.
Francis I, King of France, 1494-1547, former owner.
Korner, E., former owner.
Blyth, Charles R. 1883-1959, former owner.