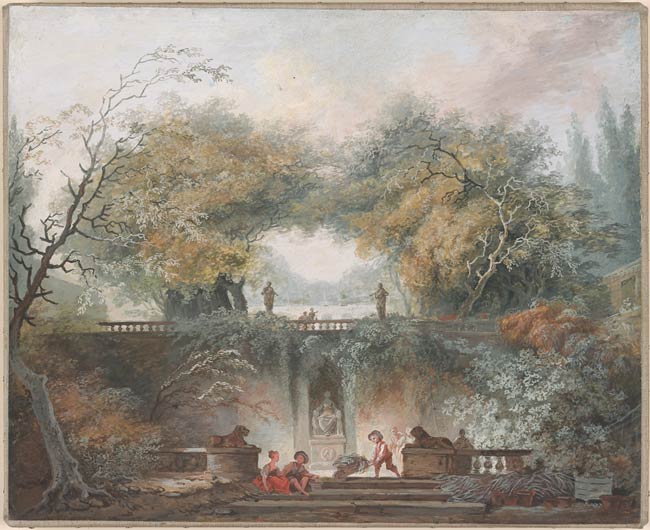 Opaque watercolor over graphite on parchment.
7 3/4 x 9 9/16 inches (197 x 242 mm); Modern canvas secondary support: 7 7/8 x 9 3/4 inches wrapped on wooden strainer
Provenance:
Jacques de Bryas (active ca. 1900), Paris; his sale, Paris, Galerie Georges Petit, 4-6 April 1898, lot 55 (sold to Stettiner [or Wildenstein?]); Bernice C. Bowles (b. 1895), Portland, Oregon; sale, New York, Sotheby's, 14 January 1987, lot 181; Eugene V. and Clare E. Thaw, New York.
Bibliography:
The Morgan Library & Museum, New York, NY, "Drawn to Greatness: Master Drawings from the Thaw Collection", 2017. Exh. cat., no. 123, repr.
Denison, Cara D. et al. The Thaw Collection : Master Drawings and New Acquisitions. New York : Pierpont Morgan Library, 1994, no. 26, repr.
Alexandre Ananoff, "L'Oeuvre dessiné de Jean-Honoré Fragonard, 1732-1806", 4 vols., Paris, 1961-1970, III, no. 1575.
Denison, Cara D. French Master Drawings in the Pierpont Morgan Library. New York : Pierpont Morgan Library, 1993. no. 73, repr. in color.
Denison, Cara D. et al. From Mantegna to Picasso : Drawings from the Thaw Collection at the Pierpont Morgan Library, New York. London : Royal Academy of Arts ; New York : Pierpont Morgan Library, 1996, no. 26, repr. in color (and repr. in color on cover of catalogue).
Stein, Perrin, et al. Fragonard: Drawing Triumphant: Works from New York Collections, Metropolitan Museum of Art, 2016, no. 34.
Notes:
This painterly watercolor on vellum is a reduced-scale replica of Fragonard's painting "The Small Park" (Le petit parc) in the Wallace Collection, London. It is part of a larger group of works in which the artist explored the theme of a park interior with a central group of figures in a lush, shady spot at the top of a low flight of stairs, dwarfed by immense trees. The trees framing the stone walk are derived from the landscape at the gardens of the Villa d'Este at Tivoli, which Fragonard visited in the summer of 1760. As Perrin Stein remarked of the artist's variations on the theme, "Fragonard, like a composer, circled around and repeated his formal themes of mirroring and reflection, always retaining elements of irregularity within the overall symmetry."
A rough outline from one of Fragonard's Italian sketchbooks (in use 1759-61), now in the Harvard Art Museums (acc. no. 1968.42), records an initial idea for such a composition. The artist developed the scene further in three drawings and an engraving in the years following his return to Paris, ca. 1761-63. The painting seems to date later in the artist's explorations, perhaps around 1763-65, with the present gouache executed following its completion, likely ca. 1765.
Associated names:
Bryas, Jacques de, former owner.
Stettiner, Richard, 1865- former owner.
Bowles, Bernice C., former owner.
Thaw, Eugene Victor, former owner.
Thaw, Clare, former owner.