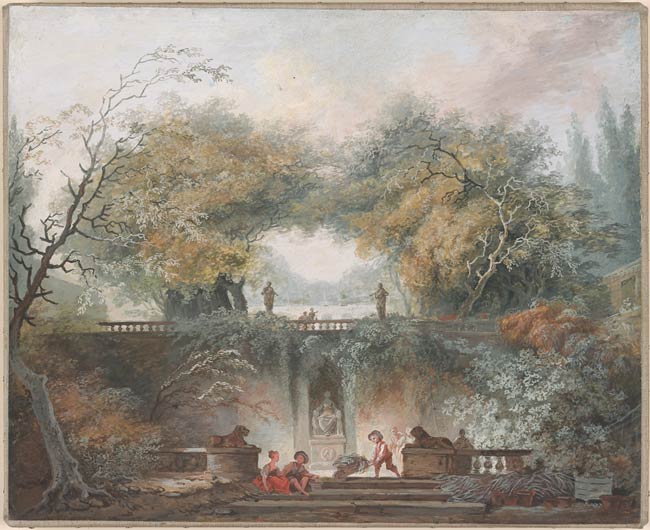 Opaque watercolor over graphite on parchment.
7 3/4 x 9 9/16 inches (197 x 242 mm); Modern canvas secondary support : 7 7/8 x 9 3/4 inches wrapped on wooden strainer
Exhibition label:
This composition is known in six distinct variants: three drawings, one etching, one painting, and this watercolor on parchment. A boy pushing a wheelbarrow full of greenery is depicted in a verdant Italian park. While a pensionnaire at the French Academy in Rome, Fragonard spent much time at the Villa d'Este at Tivoli and made numerous drawings of its gardens and natural surroundings. The setting of the Little Park was inspired by those drawings, which were greatly admired by Fragonard's contemporaries for their spirituality and intelligence.
Provenance:
Jacques de Bryas; his sale, Paris, 4-6 April 1898, lot 55; sold to Stettiner; Bernice C. Bowles; sale, New York, Sotheby's, 14 January 1987, no. 181, repr. in color; Mr. and Mrs. Eugene V. Thaw, New York.
Notes:
This rare gouache by Fragonard is a reduction of his painting of the same subject now in the Wallace Collection, London.