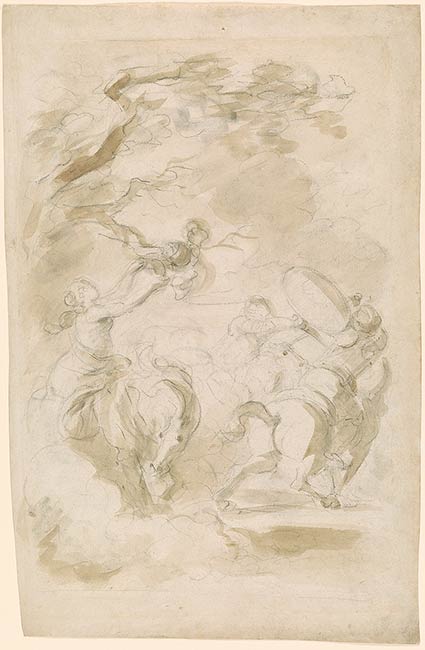 Angelica Removes Orlando's Helmet during the Duel
Pen and brown ink and wash, over black chalk, on paper.
17 1/2 x 11 1/4 inches (444 x 291 mm)
Purchased on the Edwin H. Herzog Fund with the assistance of Alice Tully.
Inscription:
Watermark: Cross with "IHS", cross and heart inside circle.
Provenance:
Hippolyte Walferdin (who probably purchased the complete set of the Ariosto drawings directly from the Fragonard family); his sale, Paris, Hôtel Drouot, 12-16 April 1880, no. 228 ("136 compositions"); purchased by Louis Roederer, Reims (d. 1880); left to his nephew, Léon-Olry Roederer; bought by A.S.W. Rosenbach, Philadelphia, for the Rosenbach Company, in 1922; to John Fleming, after Rosenbach's death in 1952; sold to a private collector in 1955; Thomas Agnew & Sons, Ltd., London, 1978.
Notes:
This drawing is one of Fragonard's designs for illustration to Ludovico Ariosto's epic poem, "Orlando Furioso", which the artist produced during the 1770's and 1780's, but were never published. There are six other brush and wash drawings by Fragonard from this "Orlando Furioso" series in the Library's collection (Acc. No. 2001.61:1-6).