A Young Woman Seated on the Ground
Red chalk, over slight indications in graphite, on cream laid paper.
8 3/4 x 11 1/16 inches (222 x 281 mm)
Purchased by J. Pierpont Morgan in 1907.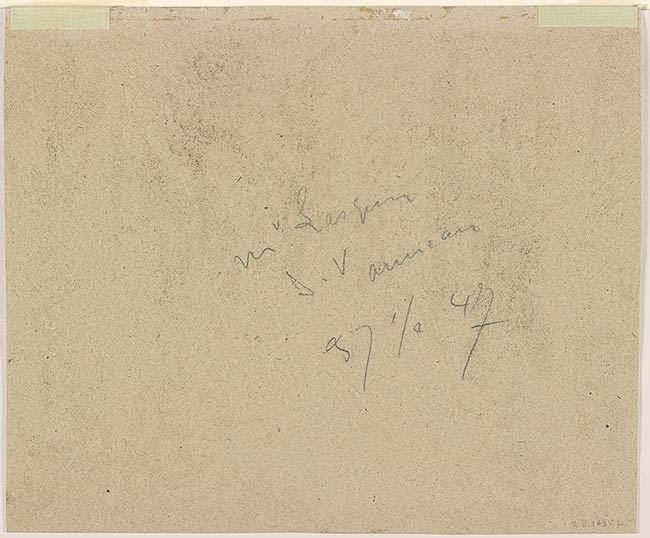 Provenance:
M. de Bèze (possibly Claude Guillaume de Besse, d. before 1786), Paris; his sale, Paris, Pierre Remy, 3 April 1775, lot 329, for 40.2 livres to Remy; possibly George Bottellier Lasquin (1882-1932), Paris (according to inscription on verso of old mount; see Lugt S. 1139a); Eugene Glaenzer (d. 1923) and Jacques Seligmann & Co., New York; from whom purchased by J. Pierpont Morgan in 1907 (no mark; see Lugt 1509).
Bibliography:
"Exibition Held on the Occasion of the New York World's Fair", New York, The Pierpont Morgan Library, 1939, no. 116.
Alexandre Ananoff, "L'Oeuvre dessiné de Jean-Honoré Fragonard, 1732-1806", 4 vols., Paris, 1968, I, no. 197.
Denison, Cara D. French Drawings, 1550-1825. New York : Pierpont Morgan Library, 1984, no. 73.
Denison, Cara D. French Master Drawings in the Pierpont Morgan Library. New York : Pierpont Morgan Library, 1993, no. 69, repr. in color.
In August Company : The Collections of the Pierpont Morgan Library. New York : Pierpont Morgan Library, 1993, no. 26, pp. 298-299, repr. in color.
Stein, Perrin, et al. Fragonard: Drawing Triumphant: Works from New York Collections, Metropolitan Museum of Art, 2016, no. 69.
Notes:
Watermark: none visible through lining.
Fragonard began this deliberately composed and carefully drawn sheet with a preliminary study in graphite. Depicting a young woman seated outdoors, it is part of a larger corpus of such red chalk studies of fashionable young women that have long been dated to the 1780s following the artist's return from Italy. When Pierpont Morgan purchased the drawing in 1907, it was believed to be a portrait of the artist's sister-in-law Marguerite Gérard. Perrin Stein has challenged the assumption that the larger group of Fragonard's red chalk studies of women are depictions of family members and suggests the larger group can be dated to the early 1770s before the artist left for Italy. She noted that two of the sheets were the subject of chalk manner engravings dated 1772/73 and 1774, supporting the argument that these studies pre-date his departure in October 1773. An autonomous drawing such as the present sheet would have met the popular demand for robustly executed depictions of elegant young women.
Associated names:
Bèze, M. de, former owner.
Lasquin, G. B., former owner.
Glaenzer, Eugene, former owner.
Murray, Charles Fairfax, 1849-1919, former owner.
Morgan, J. Pierpont (John Pierpont), 1837-1913, former owner.