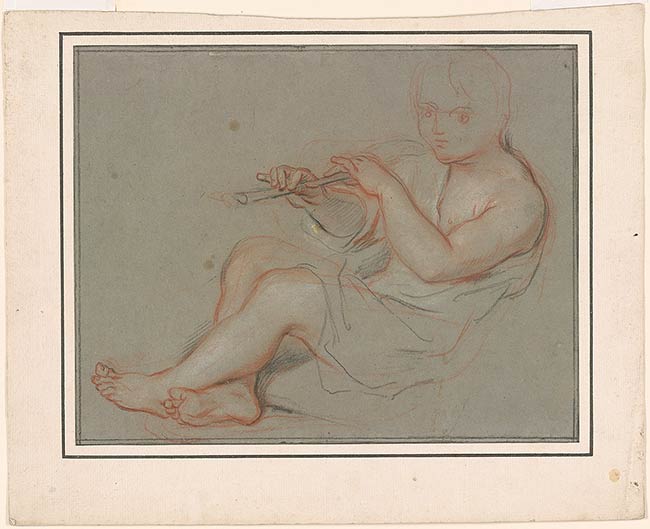 Red, black and white chalk, on dark gray paper; framing lines in black chalk
8 7/8 x 11 1/8 inches (225 x 283 mm)
Gift of Mr. and Mrs. William M.B. Berger.
Provenance:
Sale, London, Christie's, 2 July 1996, no. 208; William M. B. Berger (1925-1999) and Bernadette J. J. Berger (1940-2015), Denver.
Bibliography:
Sale catalogue for Sotheby's, New York, 29 January 2015, lot 87 (unsigned entry).
Notes:
This study is for the figure of a boy playing a flute in the foreground of a decorative ceiling panel depicting Music in a series devoted to Allegories of the Arts. The ceiling was commissioned in 1681-84 to adorn the cabinet des beaux-arts of author Charles Perrault's Paris home. The picture may not have been installed--Perrault left the house in 1683--and the house itself destroyed two years later. Until the painting emerged on the market in 2015 (sale, New York, Sotheby's, 29 January 2015, lot 87), the composition was only known through a print by Gerard Edelinck published in 1690.
According to Mariette, the Allegory of Music depicted Perrault's wife Marie Guichon (d. 1678) and their children. At the time of the painting's sale, however, the author of the Sotheby's catalogue entry convincingly argued that the painting actually depicts Madame de Maintenon and the natural children of Louis XIV. In this sheet, Coypel has focused on the pose of the child's body, the position of his hands, and the way the light defines his limbs, leaving the rest of the figure loosely and schematically drawn.
Associated names:
Berger, W. M. B. (William Merriam Bart), 1925-1999, former owner.
Berger, Bernadette J., -2015, former owner.