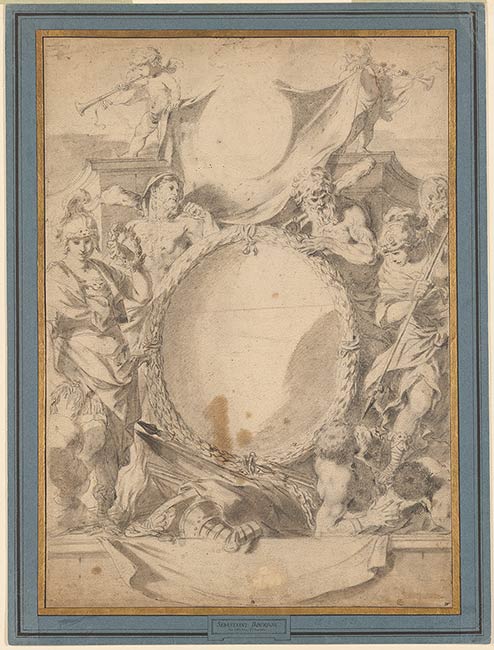 Design for a Frontispiece with Hercules and Minerva
Black chalk and gray wash, on laid paper; traced for transfer with stylus, laid down on a Mariette mount.
18 1/2 x 13 3/16 inches (469 x 335 mm)
Purchased as the gift of the Fellows.
Provenance:
Pierre Jean Mariette (1694-1774), Paris (his mount with cartouche lettered "Sebastiani Bourdon/Ex Collectione P. J. Mariette"; Lugt 1852); Louis François I, Prince of Conti (1717-1776) Paris; his posthumous sale, Paris, Pierre Remy, 8 April 1777, lot 1188; August Grahl (1791-1886), Dresden (Lugt 1199); Edmond Fatio (1871-1959), Geneva; his sale, Geneva, N. Rauch, June 3-4, 1959, no. 53.
Bibliography:
Pierpont Morgan Library. Review of Acquisitions, 1949-1968. New York : Pierpont Morgan Library, 1969, p. 134.
Adams, Frederick B., Jr., comp. Eleventh Report to the Fellows of the Pierpont Morgan Library, 1961. New York : Pierpont Morgan Library, 1961, p. 85-86.
New York PML 1961, pp. 85-86.
Denison, Cara D. French Drawings, 1550-1825. New York : Pierpont Morgan Library, 1984, no. 108.
Denison, Cara D. French Master Drawings in the Pierpont Morgan Library. New York : Pierpont Morgan Library, 1993, no. 27, repr.
Thuillier, Jacques. Sebastien Bourdon (1616-1671). Catalogue critique et chronologique de l'oeuvre complet, p. 345.
Notes:
Unsettled by the Fronde-the ongoing civil conflict between Protestants and Catholics that plagued France from 1648 to 1653-Bourdon accepted a position in Stockholm serving as court painter to Queen Christina of Sweden during those years. Although executed after the artist's return to Paris, this frontispiece was meant to frame a portrait of Queen Christina; the cherubs above flank a space reserved for her coat of arms. Surrounding the central medallion are Minerva and Hercules in a peaceful attitude, at left, and as warriors, at right. Thuillier suggests this initial project with its martial symbolism was abandoned when the queen abdicated her post in 1654.
In anticipation of Christina's visit to Paris in 1656, the project was revived. Bourdon revised his figures for Michel Lasne's engraved portrait, which he issued in several printed variations.
This decorative sheet, unique in Bourdon's oeuvre, belonged to the connoisseur Pierre-Jean Mariette. Although Mariette preferred mats of uniform size for his drawings, his standard format of the mounts was sometimes altered to accommodate larger compositions, such as this sheet.
Associated names:
Mariette, Pierre Jean, 1694-1774, former owner.
Conti, Prince de, former owner.
Grahl, August, 1791-1868, former owner.
Fatio, Edmond, 1871-1959, former owner.