View of the Hospital at Lyon
Brush and gray wash on paper.
8 5/8 x 14 3/4 inches (219 x 374 mm)
Purchased by Pierpont Morgan (1837-1913) in 1909.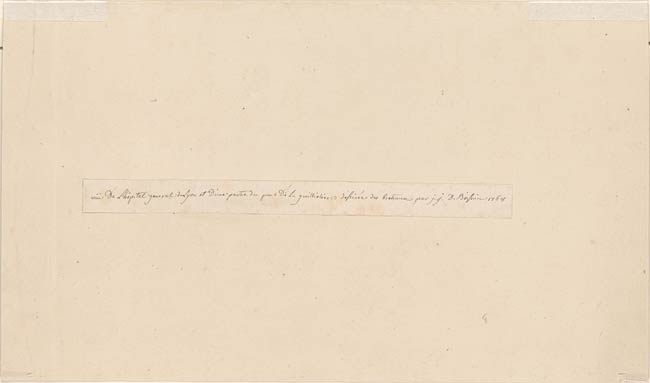 Inscription:
Signed with initials in brown ink at lower left, in pen and brown ink, "DB.f"; inscribed by the artist (?) in brown ink on a strip of paper pasted to the backing of the sheet: "vüe De L'hôpital general de Lyon et D'une partie du pont De La guilliolier. dessinée des Breteaux par j. j. De Boissieu 1768".
Provenance:
George Knapton (1698-1778); General George Morrison (1704?-1799) (by bequest from Knapton); Knapton-Morrison sale, London, T. Philipe, 25 May-3 June 1807, lot 86; where purchased by George Hamilton Gordon, 4th Earl of Aberdeen (1784-1860) for £4; Charles Fairfax Murray (1849-1919), London and Florence; from whom purchased through Galerie Alexandre Imbert, Rome, in 1909 by Pierpont Morgan (1837-1913), New York (no mark; see Lugt 1509); his son, J. P. Morgan, Jr. (1867-1943), New York.
Bibliography:
Collection J. Pierpont Morgan : Drawings by the Old Masters Formed by C. Fairfax Murray. London : Privately printed, 1905-1912, III, 19, repr.
Denison, Cara D. French Drawings, 1550-1825. New York : Pierpont Morgan Library, 1984, no. 80.
Denison, Cara D. French Master Drawings in the Pierpont Morgan Library. New York : Pierpont Morgan Library, 1993, no. 81, repr.
Charles Fairfax Murray, 1905-12, III, no. 119, repr.; Michel, 1987, p. 241, fig 287.
Summary:
The view of Lyon is rendered in Boissieu's characteristic crisp brush and gray wash manner and identified and dated by him in an inscription now pasted on the back of the drawing. The view depicted, which as the artist notes, was taken from the Brotteaux section, shows St. John's Hospital, designed by Soufflot with the Church of St. John. The Pont de la Guillotière crosses the river Saône, and in the background the hills of Fourvier can be seen.
Associated names:
Knapton, George, former owner.
Morrison, George, General, former owner.
Aberdeen, Lord, former owner.
Murray, Charles Fairfax, 1849-1919, former owner.
Morgan, J. Pierpont (John Pierpont), 1837-1913. former owner.