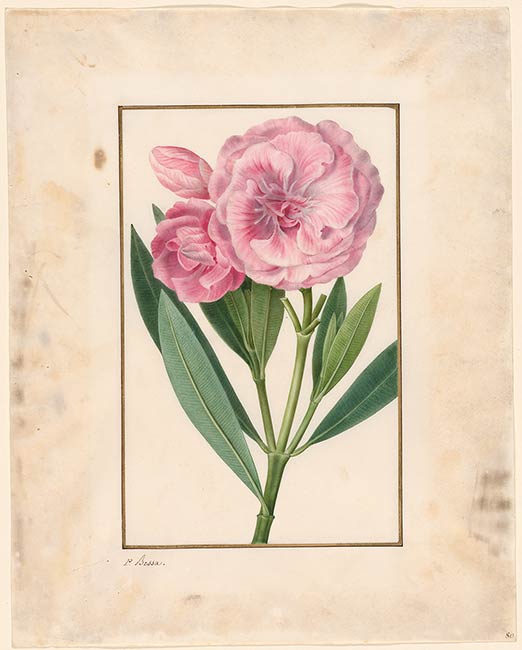 Double-flowered Oleander (Nerium oleander flore-pleno)
10 3/8 x 8 1/4 inches (264 x 210 mm)
Inscription:
Signed in brown ink, at lower left, "P. Bessa".
Bibliography:
"Flower in Books and Drawings ca. 940-1840", New York, The Pierpont Morgan Library, 1980, no. 125.
Notes:
Pancrace Bessa was one of the most notable botanical artists of 19th-century France, although his work has been overshadowed by two of his teachers and collaborators, Gerard van Spaendonck (1746-1822) and Pierre-Joseph Redoute (1759-1840). Born in Paris in 1772, Bessa showed an early affinity for portraying the natural world and, starting in 1806, regularly exhibited at the Paris Salon, winning a medal in 1808. As his work became more highly regarded and collected by the aristocratic classes, in 1823 he was made a peintre des fleurs, hired to depict rare botanical specimens for the famous collection of paintings on vellum ("les Vélins du Roi"), begun in 1631 as a compendium of plants and animals in the royal collection by Gaston d'Orleans, inherited by Louis XIV, and then transferred to the Jardin du Roi. Many of Bessa's original watercolors on vellum, depicting newly discovered species of plants from around the world, were reproduced as prints through stipple engraving. His paintings of both botanical and zoological subjects were engraved for other important publications, including the series Description d'Egypte (1809-1829), which set out to catalog the natural history of Egypt based on the collections of Napoleon Bonaparte's campaign in that country from 1798-1801.Bessa also contributed work to small books of poetry and prose, illustrated with flowers, aimed at a cultured female audience.
The present watercolor is from a collection commissioned by King Charles X to illustrate the French botanical journal "L'Herbier général de l'amateur". Between 1810 and 1826, Bessa produced 572 watercolors for the publication which so impressed the King that he presented them as a New Year's Day gift in 1826 to his daughter-in-law, the Duchesse de Berry. The Duchesse had appointed Bessa as her painter of flowers in 1816, the year she married the Duc de Berry, and had begun taking painting lessons from him in 1820. The collection of watercolors for the L'Herbier remained intact until 1947 when the group was dispersed at auction. The present sheet is number 80.
Associated names:
Berry, Marie-Caroline de Bourbon-Sicile, duchesse de, 1798-1870, former owner.
Teresa Cristina, Empress, consort of Pedro II, Emperor of Brazil, 1822-1889, former owner.
Rodrigues, Barbosa, d. 1909, former owner.
Campos-Porto, Paulo, former owner.