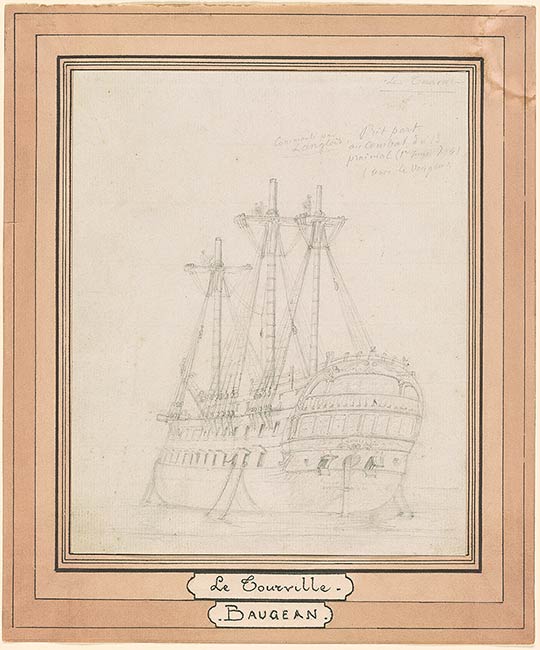 8 1/2 x 7 inches (217 x 178 mm)
Gift of Monroe Warshaw in honor of Mrs. Regina Slatkin.
Inscription:
Inscribed at upper right, "Le Tourville/ Commandé par / Langlois. Prit part/ au Combat du 13 / prairial (1er Siege 1794) avec le Vanguard".
Provenance:
Monroe Warshaw, New York.
Summary:
Although the painter and printmaker Baugean painted history subjects, he is perhaps best known for his marine subjects. Working in Italy and in his native Marseille, he knew a great deal about boats of all sizes and sorts, and published several collections of prints. In 1814 he published sixteen engravings with his own explanatory text, "Collection de toutes les espèces de batiments de guerre et de batimens marchands, qui naviguent sur l'océan et dans la méditerranée/ dessinéee d'après nature et gravée par Baugean; composé de soixante-douze planches et accompagnée d'un texte explicatif". He followed this in 1817 with "Receuil de petites marines; représentant de navires de diverse nations, et de toutes espèces, sous différentes voilures; intérieurs d'arseneaux, travaux des ports, costumes de pệcheurs, de matelots, et principales professions attachées à la marine; phares, sites pittoresques; barques de rivières, etc. dessiné et gravée par Baugean".
Associated names:
Warshaw, Monroe, former owner.