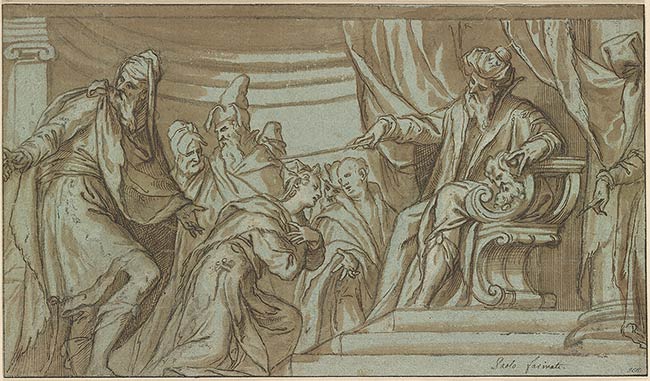 Esther Before Ahasuerus: Ahasuerus Lowers His Sceptre and Esther Swoons in Relief
Pen and brown ink and wash, over black chalk, with white opaque watercolor, on blue paper; framing lines in pen and black ink.
9 5/8 x 16 3/4 inches (246 x 426 mm)
Purchased by Pierpont Morgan (1837-1913) in 1909.
Inscription:
Inscribed throughout by the artist, with letters presumably signifying color indications, in pen and brown ink; these are, at upper left, on turban of figure, "B"; at left, on mantle, "R"; at lower left, "3"; on background figures, at left, "V; V; R; R; S"; on garment of figure of Esther, "V P"; on figure to right of Esther, "V; S"; on curtain behind Ahasuerus, "R"; on garments of Ahasuerus," S; 3; S; R; R; 3"; inscribed at lower right, in pen and brown ink, "Paolo farinati".
Provenance:
J. C. Robinson (Lugt 1433 ); Charles Fairfax Murray (1849-1919), London and Florence; from whom purchased through Galerie Alexandre Imbert, Rome, in 1909 by Pierpont Morgan (1837-1913), New York (no mark; see Lugt 1509); his son, J. P. Morgan, Jr. (1867-1943), New York.
Bibliography:
Collection J. Pierpont Morgan : Drawings by the Old Masters Formed by C. Fairfax Murray. London : Privately printed, 1905-1912, IV, 77, repr.
Notes:
Watermark: none visible through lining.
Associated names:
Robinson, J. C. (John Charles), Sir, 1824-1913, former owner.
Murray, Charles Fairfax, 1849-1919, former owner.
Morgan, J. Pierpont (John Pierpont), 1837-1913, former owner.