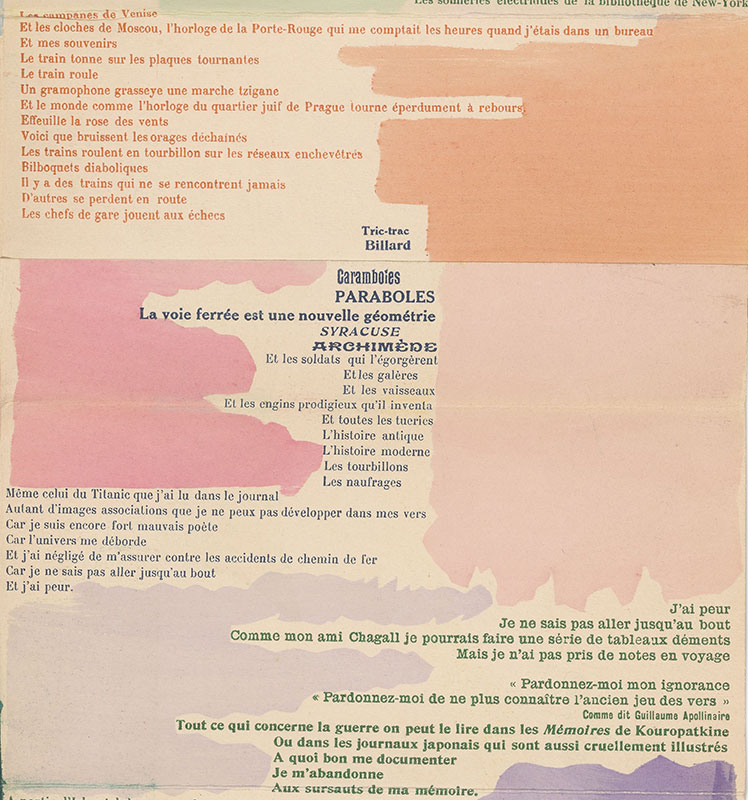 The campaniles of Venice
And the bells of Moscow ringing, the clock at Red Gate that kept time
   for me when I was working in an office
And my memories
The train thunders into the roundhouse
The train rolls along
A gramophone blurts out a tinny Bohemian march
And the world, like the hands of the clock in the Jewish section of
   Prague, turns wildly backwards.

Cast caution to the winds
Now the storm is raging
And the trains storm over tangled tracks
Infernal toys
There are trains that never meet
Others just get lost
The stationmasters play chess
Backgammon
Shoot pool
Carom shots
Parabolas
The railway system is a new geometry
Syracuse
Archimedes
And the soldiers who butchered him
And the galleys
And the warships
And the astounding engines he invented
And all that killing
Ancient history
Modern history
Vortex
Shipwreck
Even that of the Titanic I read about in the paper
So many associations images I can't get into my poem
Because I'm still such a really bad poet
Because the universe rushes over me
And I didn't bother to insure myself against train wreck
Because I don't know how to take it all the way
And I'm scared.

I'm scared
I don't know how to take it all the way.
Like my friend Chagall I could do a series of irrational paintings
But I didn't take notes
"Forgive my ignorance
Pardon my forgetting how to play the ancient game of Verse"
As Guillaume Apollinaire says
If you want to know anything about the war read Kuropotkin's Memoirs
Or the Japanese newspapers with their ghastly illustrations
But why compile a bibliography
I give up
Bounce back into my leaping memory . . .