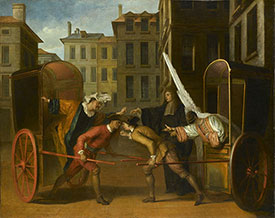 Friday, April 21, 2023, 12:30 PM
Join us for a session on 18th century French artist Claude Gillot, the innovative, brilliant outlier of his age whose work inspired so many artists who followed.  We'll explore his diverse talents in the context of his time, and look closely at a few of his most engaging works.
Please note that the program will take place online. After registering, participants will receive a confirmation email with instructions on how to participate using Zoom. We ask that you download the app in advance for the best user experience.
Tickets:
Free; limited availability, advance registration is required. Registration will open two weeks before the program.