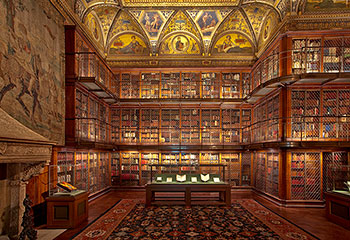 Friday, October 28th, 2022, 12:30 PM
Topic: The Morgan Tapestry: Pieter Cocke van Aelst's "Triumph of Avarice"
The Triumph of Avarice, designed in 1535 by Pieter Cocke van Aelst, is the only surviving tapestry from the first weaving of a series depicting the seven deadly sins that once belonged to the English king Henry VIII. J. P. Morgan purchased this exquisite tapestry in 1906 and it now hangs in the library above the fireplace. Please join our Morgan docents as they guide you on an up-close virtual exploration and discussion of this fascinating work that forms part of the institution's treasured permanent collection.
Please note that the program will take place online. After registering, participants will receive a confirmation email with instructions on how to participate using Zoom. We ask that you download the app in advance for the best user experience.