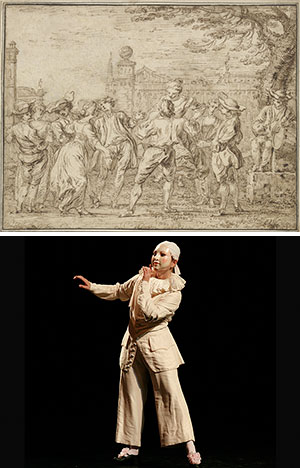 Friday, March 17, 2023, 5-7 PM
Revel in the arrival of spring with an evening celebrating the exhibition Claude Gillot: Satire in the Age of Reason featuring engaging talks, a dance performance, live music, and refreshments. Curator Jennifer Tonkovich, and art historian Noah Margulis will offer tours of the exhibition; New York Baroque Dance Company members will perform eighteenth-century dances; French inspired jazz and swing music of the 1930s by the Brooklyn based band The Bailsmen will enliven the court; and visitors can relax with a French wine and cheese tasting at the Morgan café.
Exhibition Talks
5:30 PM: Jennifer Tonkovich, Eugene and Clare Thaw Curator of Drawing and Prints
6:30 PM: Noah Margulis, PhD Candidate, The Institute of Fine Arts, New York University


Lecture/Performance: New York Baroque Dance Company
5:30pm and 6:30pm, each approximately 25 minutes
Claude Gillot was inspired by the troupe of Italian actors performing commedia dell'arte plays in Paris circa 1700. These satires featured the rogue Harlequin, the belle Colombine, and the rascal Scaramouche, who used pantomime, acrobatics, dance, and the spoken word to communicate to a diverse audience. See these characters come to life in a lecture by Catherine Turocy and brief dance performances by members of The New York Baroque Dance Company with guest actor, Mace Perlman. Based on routines recorded in early eighteenth-century dance notations as well as in Gregorio Lambranzi's 1716 masterpiece The New and Curious School of Theatrical Dancing, this historical dance program reveals the timeless humor of the commedia dell'arte.
Jazz in Gilbert Court: The Bailsmen
5-7 PM
Food and drink available for purchase (Up to 6:30 PM).