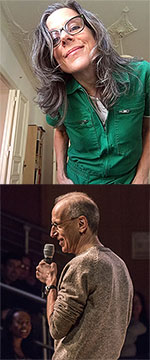 Wednesday, February 15, 2023, 6:30 PM
Person Place Thing is an interview show based on the idea that people are particularly engaging when they speak not directly about themselves but about something they care about. Interdisciplinary artist Nina Katchadourian's work includes video, performance, sound, sculpture, photography and public projects. The program will feature live music by Brian Dewan and is being recorded for later broadcast on Northeast Public Radio.
The exhibition Uncommon Denominator: Nina Katchadourian at the Morgan will be open at 5:30 PM for program attendees.
SOLD OUT
The event will take place in J. Pierpont Morgan's Library. By entering the museum, you agree to our updated Visitor Guidelines and Policies. Masks are required for attending all public programs.
Tickets:
$20/$15 for Members; Seating is limited.