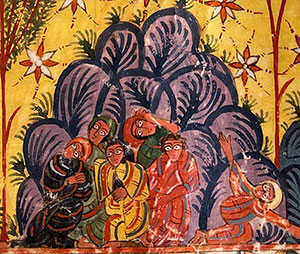 Join Joshua O'Driscoll, Assistant Curator of Medieval and Renaissance Manuscripts, for a virtual tour exploring one of the great monuments of medieval Spanish art: a tenth-century commentary on the Apocalypse, written and illuminated by the monk Maius. Through this series of nearly 70 full-page miniatures, characterized by their vibrant palette as well as their expressive, abstract figures, Maius brings the visionary text of Revelation to life. Referred to by one of his students as a "master painter," this artist monk has been credited with shaping the course of Spanish painting in the tenth and eleventh centuries. Combining diverse sources of inspiration along with unique pictorial innovations, Maius' paintings reflect the complex, multicultural context of the Iberian Peninsula in the early Middle Ages.
Please note that the program will take place online. After registering, participants will receive a confirmation email with instructions on how to participate using Zoom. We ask that you download the app in advance for the best user experience.
Thursday, June 24, 2021, 12 PM
Tickets Options: Many of our digital programs are offered at low cost or free to the public. Please select the ticket price that best suits your needs and thank you for supporting our programming.
| | |
| --- | --- |
| $25 | Pay it Forward, reserve a Virtual Ticket and contribute towards keeping virtual programs accessible to those in need |
| $15 | General Admission Virtual Ticket |
| $5  | Limited Income Virtual Ticket |
| Free | Reserve a free Virtual Ticket for Morgan Members, students with a valid ID, or request a free Public Ticket |