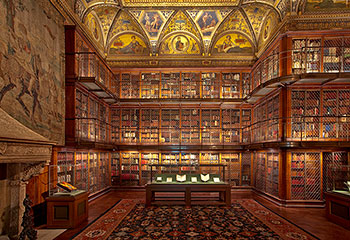 Rush Hour Music In Mr. Morgan's Library
In the second season of the Morgan's new "rush hour" series celebrated artists perform Baroque to contemporary chamber music in the intimate and sumptuous surroundings of Mr. Morgan's Library. All concerts last approximately one hour. 
Call & Response: Chamber Music by African American Composers
Members of the Chamber Orchestra of Philadelphia
This concert will feature works by African-American composers, including David Baker's Duo, Jeffrey Mumford's eight aspects of appreciation II, Coleridge-Taylor Perkinson's Walkin' All Over God's City Called Heaven, and Ulysses Kay's Pantomime Fantasy.
Tuesday, March 19, 2019, 6:30 pm
Tickets:
$30; $25 for members. Seating is limited.