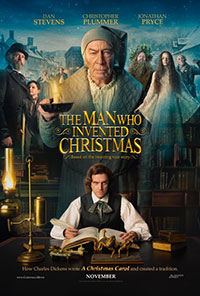 Director: Bharat Nalluri
(November 2017, 104 minutes)
Join us for a special preview screening of The Man Who Invented Christmas and discover the magical journey that led to the creation of Ebenezer Scrooge (Christopher Plummer), Tiny Tim, and other classic characters from A Christmas Carol. Directed by Bharat Nalluri, the film shows how Charles Dickens (Dan Stevens) mixed real life inspirations with his vivid imagination to conjure up unforgettable characters and a timeless tale, forever changing the holiday season into the merry celebration we know today. Also starring Jonathan Pryce, Simon Callow, and Miriam Margolyes. A post screening discussion with Christopher Plummer will follow. Courtesy of Bleecker Street. In theaters everywhere this Thanksgiving.
Tuesday, November 14, 6:30 pm
The exhibition Charles Dickens and the Spirit of Christmas will be open at 5:30 pm for program attendees.