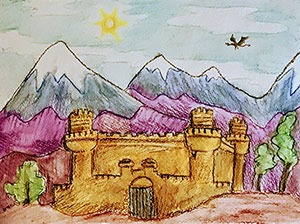 Saturday, April 13, 2019 11 AM–1 PM
In this miniseries, children will first become apprentice cartographers, then watercolorists as they discover the historic techniques of mapmaking and then watercolor technique based on works in the exhibition Tolkien: Maker of Middle-earth.
Part Two "Watercolor Your World"
Surrealist artist Max Greis will guide participants using watercolor techniques and explore creating a fantasy landscape using trees and other flora and fauna to establish their own universe. If you have attended Part One of this miniseries, "Ink Into Existence," you may bring your map back to use as inspiration to watercolor a landscape from your newly created world.
SOLD OUT
Each ticket is valid for one child and up to two adults; Program consists of a thirty minute exhibition experience followed by a ninety minute art-making activity. Materials included. 
Appropriate for ages 8-14.