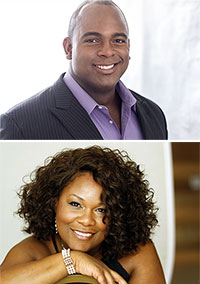 George London Foundation Recitals
Pairs of outstanding opera singers, many of whom have won a George London Award, perform in this annual series of recitals, now in its twenty-fourth year. A reception with the artists follows each recital.
Latonia Moore, soprano
Ryan Speedo Green, bass-baritone
Ken Noda, piano
Moore, a 2002 George London Award winner, made a sensation at her Metropolitan Opera debut as Aïda in 2012, and returns to the Met this season as Serena in all performances of Porgy and Bess, with Anthony Tommasini writing in the New York Times, "Gershwin's music took Ms. Moore from almost vibrato-less, celestial high stretches to chilling, chesty low phrases, all of which she sang grippingly." Green won the George London Award in 2014 and the Marian Anderson Vocal Award in 2018. The 2019–2020 season sees Mr. Green's fourth consecutive season at the Metropolitan Opera, making his role debut as Jake in James Robinson's new production of Gershwin's Porgy and Bess, and a return to the Wiener Staatsoper for roles including Ferrando in Il Trovatore, Raimondo in Lucia di Lammermoor, and Banquo in Macbeth. Green was the subject of a recent profile on 60 Minutes. Works by Boito, Katherine Kennicott Davis, Duparc, Carlisle Floyd, Hahn, Liszt, Mahler, Roger Quilter, Verdi, and Wolf will be performed.  
The exhibition Verdi: Creating Otello and Falstaff—Highlights from the Ricordi Archive will be open for concert attendees.
Sunday, October 20, 2019, 4 PM
Tickets:
$55; $45 for Morgan Members