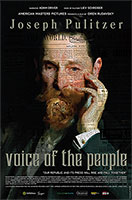 Director: Oren Rudavsky
(2018, 84 minutes)
Joseph Pulitzer: Voice of the People presages today's fight for truth in the "fake news" era as seen through the eyes of an American legend who helped shape our nation, one 36-point headline at a time. Narrated by Adam Driver (and featuring Liev Schreiber as the voice of Pulitzer), this portrait of Joseph Pulitzer, a Jewish immigrant from Hungary, recounts the life and times of modern journalism's founding father as he evolves into both a crusader for the common man and an influential, politically active New Yorker. Oren Rudavsky introduces the film, followed by a discussion with Rudavsky and David Nasaw, Arthur M. Schlesinger, Jr. Professor of History, The Graduate Center/CUNY. Joseph Pulitzer: Voice of the People premieres on the American Masters series in April 2019 on PBS.
Tickets:
Films are free with museum admission
Advance reservations for members only. Tickets are available at the Admission Desk on the day of the screening.