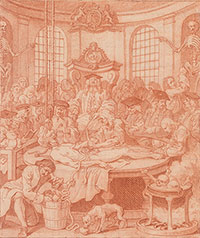 Meredith Gamer
In this lecture, Meredith Gamer, Assistant Professor of Art History at Columbia University, will explore the origins, evolution, and multi-layered meanings of William Hogarth's The Four Stages of Cruelty (1751). A tale of neglect and abuse, murder and punishment, the series was—by eighteenth-century standards—one of Hogarth's "lowest" works. Paradoxically, however, it is also one of his most ambitious, for it aims to combat some of our most basic human frailties through the medium of art. Co-sponsored by the Sir John Soane's Museum Foundation. 

The exhibition Hogarth: Cruelty and Humor will be open at 5:30 pm for program attendees.
Thursday, September 12, 2019, 6:30 pm
Tickets:
$15; $10 for Morgan Members, free for students with a valid ID.