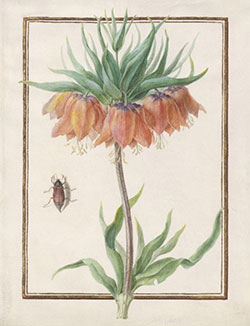 A virtual half-day symposium inspired by the installation Women Artists and Patrons in the Natural Sciences, 1650–1800 (September 14, 2021–January 9, 2022).
Women played an important role in the development of the natural sciences in the early modern period.  This virtual event will explore their varied contributions by focusing on the intersection of gender, natural history, and practices of drawing and collecting.  It will consist of a brief introduction by Austėja Mackelaitė, the Morgan's Anette and Oscar de la Renta Assistant Curator of Drawings and Prints, who organized the display, and five presentations, followed by a discussion.
 "A great naturalist and artist": The Natural History Illustrations of Maria Sibylla Merian
Kate Heard, Royal Collection, Windsor
The Bloemenboek as a Meeting Place: Agnes Block's Collection of Watercolors of Flora and Fauna
Catherine Powell-Warren, Ghent University
Women in Nature: Intersections of Gender and Colonial Histories in Early Modern Landscape Representation
Joanna Sheers Seidenstein, Harvard Art Museums, Cambridge, MA
The Lively Plants of Madeleine Françoise Basseporte: Women's Naturalisms in the Eighteenth Century
Natania Meeker, USC Dornsife, Los Angeles
The Duchess' Museum: Paper Ecologies and Collaborative Networks at Bulstrode Park
Madeleine Pelling, University of York
Download Abstracts (PDF)
Please note that the program will take place online. After registering, participants will receive a confirmation email with instructions on how to participate using Zoom. We ask that you download the app in advance for the best user experience.
Tuesday, December 14, 2021, 12–2:30 PM EST