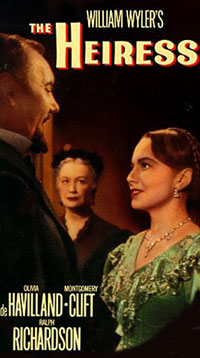 Henry James on Screen
Henry James novels chronicling the passions and missteps of 19th century Americans and Europeans have been the inspiration for countless film and television adaptions over many years. This exhibition related series features three of the most successful adaptions of his works, The Golden Bowl (2000), The Portrait of a Lady (1996), and The Heiress (1949).
The Heiress
Director: William Wyler
(1949, 115 minutes)
This Best Picture nominee was based on the stage version of Henry James's renowned novel Washington Square. Olivia de Havilland gives an Oscar-winning performance as Catherine Sloper, a young naive woman in 1840s New York who falls for a handsome young man Morris Townsend (Montgomery Clift) that her father (Ralph Richardson) suspects is a fortune hunter. Music by Aaron Copland.
The exhibition Henry James and American Painting will be open at 6:00 pm for program attendees.
***Please note: The Europeans directed by James Ivory originally scheduled for August 11th is not available at this time. We apologize for the inconvenience.
Tickets:
Free with museum admission.
Advance reservations for members only.