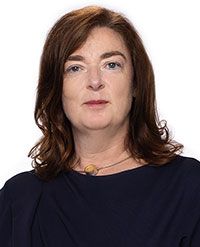 Thursday, February 2, 2023, 6 PM
In collaboration with the James Joyce Society, the Morgan celebrates Joyce's birthday and the anniversary of the publication of Ulysses with a lecture on the friendship between Joyce and the Irish writers Padraic Colum (1881–1972) and Mary Maguire Colum (1884–1957). Mary and Padraic devoted much of their personal and professional lives to championing James Joyce's career, while building their own literary careers in New York and abroad. Margaret Kelleher, Professor of Anglo-Irish Literature and Drama at University College Dublin, will discuss the Colums' jointly-authored work, Our Friend James Joyce (1958), based on her current biographical study of the couple, exploring how the work illuminates the more private dimensions of the Colums' friendship with James Joyce--how  the relationship began and endured.
The event will take place in J. Pierpont Morgan's Library. By entering the museum, you agree to our updated Visitor Guidelines and Policies. Masks are required for attending all public programs.
Tickets:
$15; Free for Morgan and James Joyce Society Members. Seating is limited.