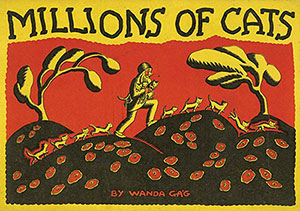 Discover a new family favorite! This workshop examines a classic children's book in the Morgan's collection. Millions of Cats is the 1929 Newbery Honor Book, and tells the story of a lonely couple whose desire for a cat leads to an unexpected adventure. Kendra Tyson, The Linda May Uris Library Media Specialist at New York University, will read from the book and discuss its groundbreaking illustrations. Families will then craft their own narrative image using the printmaking techniques of the book with teaching artist Andrea Gray.
Appropriate for ages 6-14.
Saturday, March 14, 2020, 11 AM–1 PM
This program has been cancelled. All ticket buyers will be refunded automatically. We will be in contact if we are able to reschedule the program at a later date. Please contact tickets@themorgan.org with any questions.
Each ticket is valid for one child and up to two adults; for each child thereafter, an additional ticket is required. Program consists of a thirty minute gallery experience followed by a ninety minute art-making activity. Materials included.