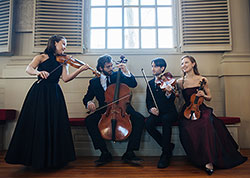 Rush Hour Music In Mr. Morgan's Library
In the second season of the Morgan's new "rush hour" series celebrated artists perform Baroque to contemporary chamber music in the intimate and sumptuous surroundings of Mr. Morgan's Library. All concerts last approximately one hour. 
Diderot String Quartet
Performing on period instruments, the Diderot, formed in 2012, bring a fresh approach to works of the eighteenth and nineteenth centuries.
Haydn, String Quartet in C Major, Op. 20, No. 2
Beethoven, String Quartet in F Major, Op. 18, No. 1
Tuesday, April 23, 6:30 pm
Tickets:
$30; $25 for members. Seating is limited.