Thursday, October 22, 2020, 3:00PM

Tickets: Program is for current undergraduate and graduate students only. Free; limited availability, advance registration is required. Speakers subject to change.
Register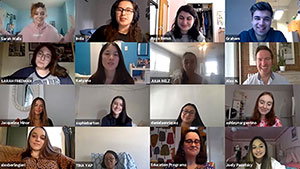 Who works at a museum and research library? How does an exhibition come together?  What is the difference between a curator, a conservator, and a collections manager? Who oversees the budget, engages with the public, and re-shelves the rare books?

 Current undergraduate and graduate students are invited to join this virtual conversation series and meet staff representing various departments at the Morgan. Participants can ask questions, get career inspiration, and discover behind-the-scenes insights.

Please note that the program will take place online. After registering, participants will receive a confirmation e-mail with instructions on how to participate using Zoom. We ask that you download the app in advance for the best user experience.


Session Two:
John D. Alexander, Senior Manager of Exhibition and Collection Administration
Polly Cancro, Reader Services Librarian
Anthony Del Aversano, Public Programs Associate
Austeja Mackelaite, Annette and Oscar de la Renta Assistant Curator of Drawings and Prints
Kirsten Teasdale, Assistant Director of Institutional Giving