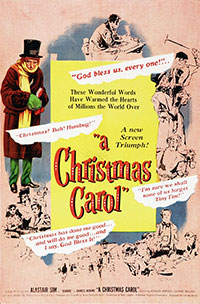 Director: Brian Desmond Hurst 

(1951, 86 minutes)
This classic adaption of Charles Dickens's beloved novel follows the stingy businessman Ebenezer Scrooge (Alastair Sim) as he is visited by the ghosts of Christmas past, present, and future in Victorian London. Scrooge is given one last chance to change his ways and learn the meaning of Christmas to save himself from the grim fate that befell his unfortunate business partner Jacob Marley (Michael Hordern).
Tickets:
Free with Museum admission.
Advance reservations for members only.