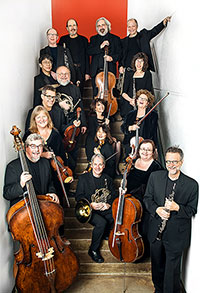 St. Luke's Chamber Ensemble
Brahms Chamber Music Festival
Three intimate perspectives on the musical life of the Romantic-era master, featuring readings and special guests.
Brahms and the Search for a Symphony
Beethoven, Symphony No. 2 in D Major, Op. 36, arranged by Andy Stein
Brahms, Serenade No. 1 in D Major, Op. 11, reconstructed by Alan Boustead
A 6:30 pm pre-concert discussion with Orchestra of St. Luke's Director of Artistic Administration A.J. Benson will provide an introduction to the arrangement of the Beethoven symphony and reconstruction of Brahms's Serenade, as well as a context for Brahms's steps towards a symphonic form.
Wednesday, June 20, 7:30 pm
Series tickets:
$120; $112.50 for members.
To order tickets by telephone call the Orchestra of St. Luke's at 212.594.6100 ext 2.