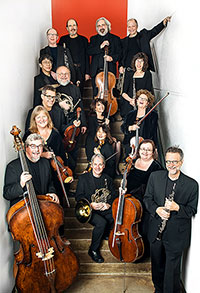 St. Luke's Chamber Ensemble
Brahms Chamber Music Festival
Three intimate perspectives on the musical life of the Romantic-era master, featuring readings and special guests.
Brahms and the Schumanns
Pedja Muzijevic, piano
Brahms, "Scherzo" from Sonatensatz in C minor, WoO2
Robert Schumann, Piano Trio in D minor, Op. 63, No. 1
Clara Schumann, Romances for violin and piano, Op. 22
Brahms, Horn Trio in E-flat Major, Op. 40

A 6:30 pm pre-concert discussion, led by Deborah L. Cabaniss, M.D. (Professor of Clinical Psychiatry, Columbia University) and Thomas Cabaniss (composer and faculty member, The Juilliard School), will explore the composers' intricate, psychologically-charged relationship. 
Wednesday, June 13, 2018, 7:30 pm
Series tickets:
$120; $112.50 for members.
To order tickets by telephone call the Orchestra of St. Luke's at 212.594.6100 ext 2.