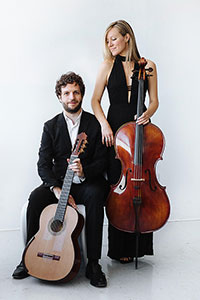 Tuesday, January 22, 2019, 6:30 pm
Rush Hour Music In Mr. Morgan's Library
In the second season of the Morgan's new "rush hour" series celebrated artists perform Baroque to contemporary chamber music in the intimate and sumptuous surroundings of Mr. Morgan's Library. All concerts last approximately one hour. 
Boyd Meets Girl
Rupert Boyd, guitar & Laura Metcalf, cello
Classical guitarist Rupert Boyd and American cellist Laura Metcalf perform a range of repertoire from Bach to Beyoncé.
SOLD OUT