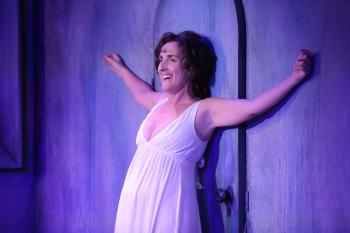 Tuesday, June 28, 2022, 6:30 PM*
Join members of the creative team for a discussion about the one-woman play YES! Reflections of Molly Bloom, a daring theatrical journey into the mind and heart of James Joyce's most sensual hero–a woman of women, a soul of souls, the indomitable Molly Bloom. Adapted for the stage by Aedín Moloney and Colum McCann and inspired by the "Penelope" episode of Ulysses, the evening will include Aedín Moloney performing excerpts from the production. Participants include John Keating, director; Aedín Moloney, writer/actor; among others. The play runs June 8 through July 17 in the W. Scott McLucas Studio Theatre at Irish Repertory Theatre and this program is cosponsored by the Irish Repertory Theatre.
*The exhibition One Hundred Years of James Joyce's Ulysses will be open at 5:30 PM for program attendees.
The event will take place in J. Pierpont Morgan's Library. By entering the museum, you agree to our updated Visitor Guidelines and Policies. Masks and proof of vaccination are required for attending all public programs.
Tickets:
$25; $20 for Morgan and Irish Repertory Theatre Members; free for students with a valid ID.