MORGAN LIBRARY RECEIVES MAJOR REMBRANDT LANDSCAPE DRAWING AS GIFT
Press release date:
Tuesday, February 1, 2000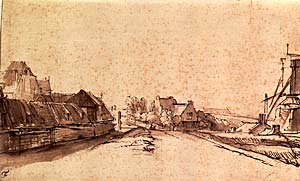 The Morgan Library announced today that it has acquired, through the generosity of an anonymous friend, an extraordinary pen-and-ink landscape drawing by Rembrandt Harmensz. van Rijn (1606–1669). Dating to around 1650, it depicts a panoramic view of a bulwark and a group of houses seen from the walls of the city of Amsterdam. Rembrandt, who sketched this group of houses on several occasions, drew and etched landscapes primarily between 1640 and 1652. While the etchings were intended to be sold, the landscape drawings remained in the artist's studio until his death. Subsequently, many became part of the collection of Nicolaes Flinck, whose father had studied with Rembrandt. This drawing, along with twenty-six others, was purchased by the duke of Devonshire in 1723 and remained in the renowned Chatsworth collection until 1984, when it was acquired by an American collector.

The Library has an exceptionally rich collection of seventeenth-century Dutch drawings. The newly acquired work joins a remarkable group of seventeen drawings by Rembrandt that were acquired by Pierpont Morgan in 1910, a study that was given in 1979, and ten works by the artist in the Thaw Collection, which is in its entirety a promised gift. The holdings also include a very large group of drawings by the artist's most talented pupils and followers, as well as more than five hundred Rembrandt etchings, which constitute the largest collection in the United States and one of the world's most important. Three of the Library's twenty-eight other drawings by Rembrandt are landscapes, yet none is nearly as fine as the sheet that has just entered the collection.

"It is very unlikely that a Rembrandt landscape drawing of such quality will ever come on the market again," stated Charles E. Pierce, Jr., Director of the Morgan Library. "And it is our great good fortune to have a friend so generous and so committed to the Library as to make such an important acquisition possible."

The Library plans to exhibit the drawing in the coming weeks, concurrently with From Bruegel to Rubens: Netherlandish and Flemish Drawings. The major exhibition, on view from February 11 through April 30, features more than one hundred of the finest Northern European master drawings from the fifteenth through seventeenth centuries in the Library's renowned collection. The Library's drawings included in From Bruegel to Rubens are supplemented by a number of sheets from the Thaw Collection and three important loans from other private collections.