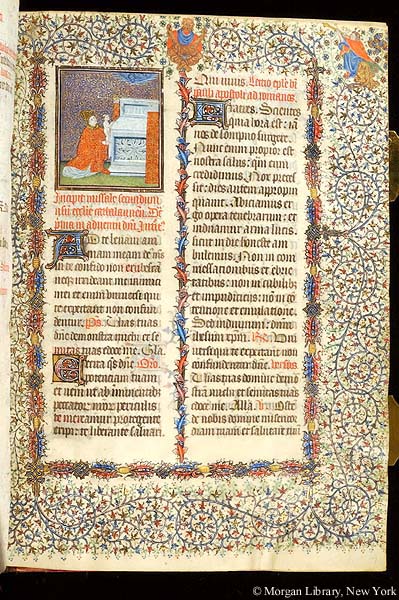 Created:
France, probably Troyes, ca. 1400
Binding:
19th century red velvet sides with tan leather back and corners; embroidered on upper cover are two shields, on the left with the arms of Tancredo Falletti, on the right with the arms of his wife, Juliette Colbert; binding may be Italian; in a maroon chemise by Marguerite Duprez Lahey.
Credit:
Purchased by J. Pierpont Morgan (1837-1913) in 1907.
Description:
312 leaves (2 columns, 27 lines), bound : vellum, ill. ; 303 x 215 mm
Provenance:
Made for use in the Cathedral of St. Stephen at Châlons-sur-Marne; said to have belonged (ca. 1830) to a Mgr. Saint-Amandier, Bishop of Strasbourg (partially obliterated inscription on fol. 312v in a 19th-century hand: ce livre appartient a monsier t..a..m..andier eveque de stras / bourg); Tancredo Falletti, marquis of Barolo and his wife Juliette Colbert (arms embroidered on binding); purchased by J. Pierpont Morgan (1837-1913) in 1907; J.P. Morgan (1867-1943).
Notes:
Missal for the use of Châlons-sur-Marne; written and illuminated in France, probably in Troyes, ca. 1400.
Decoration: 2 full-page and 19 small miniatures.
Artist: Master of Troyes.
Revised: 2015