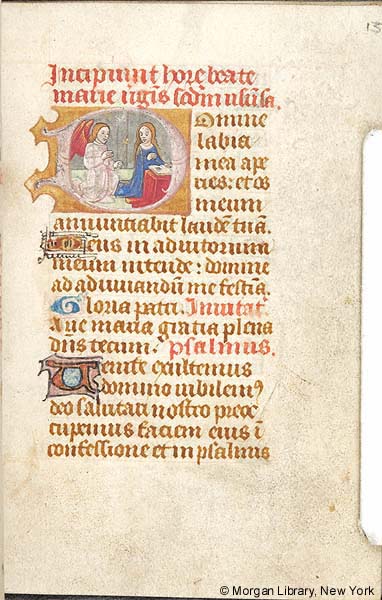 Binding:
English late 17th-century black morocco; lettered: Hora: B.M.V. In usu. Sa.; in black morocco case lettered: English Horae: Bishop Tunstall's Collection - ca. 1510.
Credit:
Purchased by J. Pierpont Morgan (1837-1913) in 1907.
Description:
136 leaves (1 column, 19 lines), bound : vellum, ill. ; 110 x 70 mm
Provenance:
Believed to have belonged to Bishop Cuthbert Tunstall; Cuthbert Constable (d. 1746); the Constables of Burton Constable; their sale (London, June 24, 1889, no. 77) to Ridler; purchased by J. Pierpont Morgan (1837-1913) from Pearson in 1907; J.P. Morgan (1867-1943).
Notes:
Ms. book of hours for the use of Sarum; written and illuminated in England, ca. 1480.
Decoration: 11 small historiated initials.
Artist: possibly illuminated by a Flemish artist working in England.