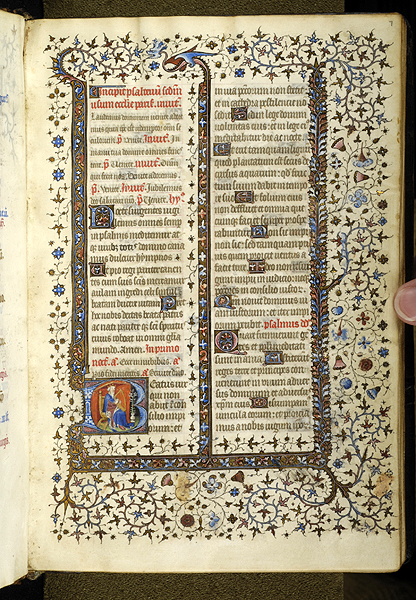 Binding:
French brown calf, ca. 1600, bound for N.L.C. (Nicolas Le Camus).
Credit:
Purchased by J. Pierpont Morgan (1837-1913) in 1902.
Description:
100 leaves (2 columns, 30 lines), bound : vellum, ill. ; 180 x 120 mm
Provenance:
Nicolas Le Camus "notaire", owner in 1562 (see also Pierpont Morgan Library. MS M.129); Elizabeth Lecamus; no. 2632 in a French 18th-century catalogue; Sotheby's sale (London, June 1, 1894, no. 123) to Robson; Richard Bennett; Catalogue of manuscripts and early printed books from the libraries of William Morris, Richard Bennett, Bertram, fourth Earl of Ashburnham, and other sources, no. 25; purchased by J. Pierpont Morgan (1837-1913) with the Bennett Collection in 1902; J.P. Morgan (1867-1943).
Notes:
Ms. psalter for the use of Paris (calendar); written and illuminated in Paris, France, ca. 1380.
Decoration: 1 historiated initial.