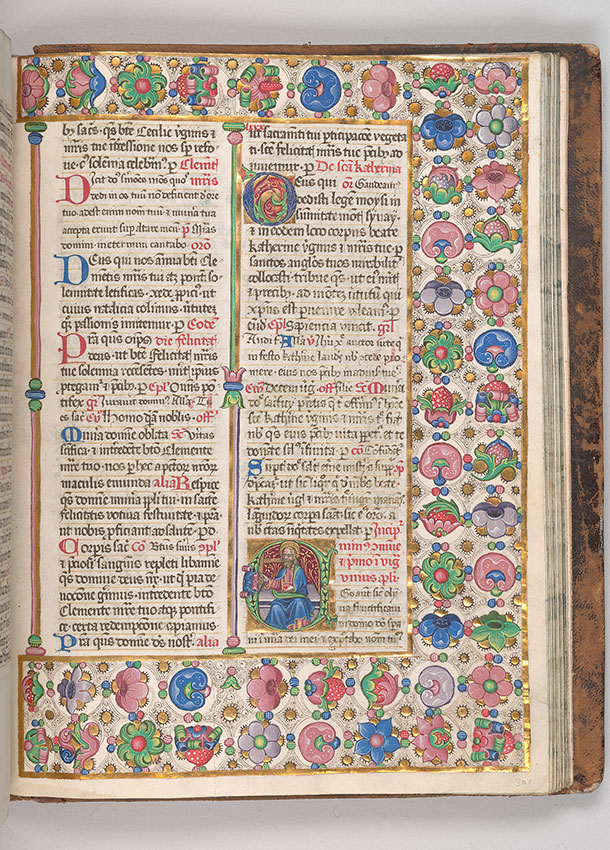 Binding:
18th century marbled brown calf, spine gold-tooled.
Credit:
Gift of the Trustees of the William S. Glazier Collection, 1984.
Description:
337 leaves (2 columns, 33 lines), bound : vellum, ill. ; 250 x 190 mm
Provenance:
Made for Domonkos Kálmáncsehi, provost of Székesfehérvár, Hungary; who in 1495 was named Bishop of Oradea (Várad); in 1501 named Bishop of Transylvania; in 1503 named Bishop of Kalocsa; his arms (or, a lion demi rampant gules, in base azure, a star of six points or) on fol. 7, 57, 104v, 218v, 222, and 293; Cistercian monastery of Viktring (Carinthia); Fürstlich Liechtenstein'sche Fideikommiss-Bibliothek, Vienna; purchased in Nov. 1948 from William H. Schab, New York for William S. Glazier (1907-1962), New York; deposited in the Pierpont Morgan Library by the Trustees of the William S. Glazier Collection in 1963.
Notes:
Ms. breviary and missal; written and illuminated in Buda, Hungary; colophon is dated 1481.
Decoration: 1 full-page miniature, 4 historiated border roundels, 1 border historiation, 48 historiated initials.
Artist: Francesco da Castello.