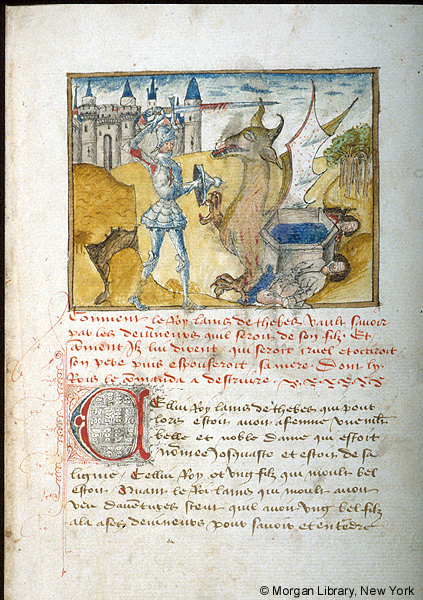 Binding:
18th-century brown calf, gold-tooling on spine.
Credit:
Gift of the Trustees of the William S. Glazier Collection, 1984.
Description:
157 leaves (1 column, 28-35 lines), bound : paper, ill. ; 278 x 200 mm
Provenance:
André Hachette; his sale, Paris, Librairie Giraud-Badin, Dec. 16, 1953, lot 9; purchased there by Arthur Rau, Paris for William S. Glazier (1907-1962), New York; deposited in the Pierpont Morgan Library by the Trustees of the William S. Glazier Collection in 1963.
Notes:
Ms. written and illuminated in northern France, and completed on Mar. 9, 1474.
Texts: La destruction de la noble cite de Thebes (fol. 1-43); Histoire de la destruction de Troye (fol. 43v-157).
1 vellum leaf, fol. 1.
Scribe: Anthoine de Langle or Lancre . Signed in colophon on fol. 157v: Escript et finist le ixe jour de mars mil iiij et lxxiiij par la main Anthoine de langle (or lancre), script is not clear.
Decoration: 1 miniature, 48 colored pen drawings, 1 illuminated initial.
The source for Destruction de la Noble Cité de Thèbes is Histoire Ancienne jusqu'à César.