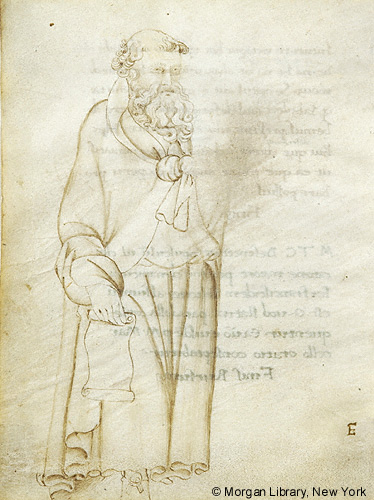 Created:
Tuscany, Italy, first half of 15th cent.
Credit:
Gift of Janos Scholz, 1984.
Description:
69 leaves (1 column, 17-18 lines), bound : vellum, ill. ; 147 x 109 mm
Provenance:
Richard Eyre; A.H. Raynolds, New York; Philip Duschnes, New York.
Notes:
Ms. written and decorated in Italy, possibly Tuscany, first half of 15th century.
Texts: Cato maior de senectute, Paradoxa, Pro Marcello.
Scribe: Domenico di Ser Francesco.
Decoration: 1 pen drawing (later addition?), 2 penwork initials, 1 miniature (fol. 38v). NB: fol. 38, which had been detached from the codex, was reinserted February 2016.
Contemporary goatskin over wooden boards, rebacked.