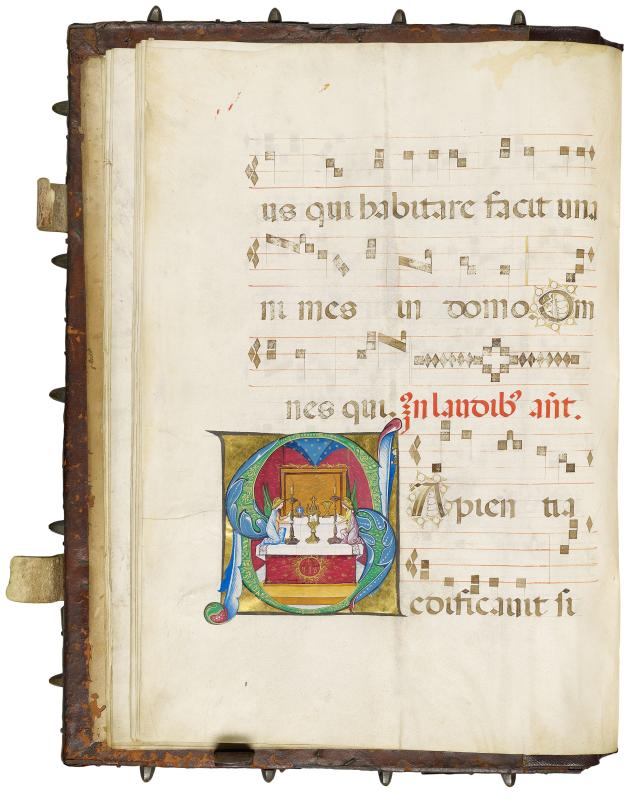 Created:
Milan, Italy, ca. 1470-1495.
Binding:
Original 15th-century brown morocco over heavy boards, rebacked, with metal border, heavy center and corner bosses, each corner plaque decorated with a shield bearing the Pallavicini arms flanked by a crozier and keys in saltire, surmounted by a mitre flanked by the initials C. P. An agnus dei stamp and a circular stamp containing the monogram of Christ are applied to the edge of fleurons. 4 heavy bosses at corners, one in the center.
Description:
156 leaves (1 column, 30 lines), bound : vellum, ill. ; 560 x 410 mm
Provenance:
Commissioned by and executed for Carlo Pallavicino, Marquis of Cremona and Bishop of Lodi; his gift to the Cathedral of Lodi in 1495; sold in 1872 by the Cathedral vestrymen to an unknown purchaser; Sotheby's sale (London, 15 February 1875, lot. 1272) to Mason; sold for 4000 lira by a Facioni di Crema to the widow Barbosi, who placed them on consignment in 1888 with the Biblioteca Vittorio Emanuele, Rome; impounded by a legal firm (R. Avvocatura Erariale) and returned to the widow Barbosi in 1891; offered by the owner at the tail end of a sale at the Palazzo Borghese (Catalogue de la Bibliothèque de S.E.D. Paolo Borghese, Prince de Sulmona et de M. le Comte de l'Aubepim, pt. 2, 20th day's sale 28 February 1893, lot no. 2568, Rome, Vincenzo Menozzi, Librairie); withdrawn for failing to make the asking price of 16,000 lira (highest offer 6,000 lira); Watson Co.; purchased for the Morgan Library before 1921.
Notes:
Ms. antiphonary for the Feast of Corpus Christi through the 24th Sunday after Pentecost, use of Rome; written and illuminated in Milan, Italy, ca. 1470-1495.
1 of 6 (with M.683-M.687) choirbooks commissioned by Carlo Pallavicino, Marquis of Cremona, Bishop of Lodi. (1456-1497), for the Cathedral of S. Bassano at Lodi, Italy.
Decoration: 4 large historiated initials; 1 large decorated initial, 1 ornamental border with 8 medallions.
Artist: attributed variously to Francesco da Castello (Francesco Bettini), Venturino Mercati, and others, including artists from the circle of the Master of Ippolita Sforza.
Musical notation: 4-line staves with square notes, 5 staves to a page.