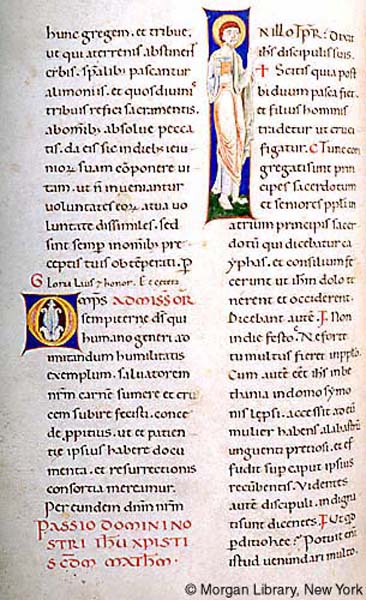 Created:
Florence, Italy, ca. 1150-1160.
Binding:
English 19th-century brown morocco, blind-tooled.
Credit:
Purchased by J.P. Morgan (1867-1943) in 1927.
Description:
206 leaves (2 columns, 29 lines), bound : vellum, ill. ; 372 x 240 mm
Provenance:
R. Cipriani (inscription in 19th century hand on fol. 1 and 206v); purchased by Quaritch from an Italian library in 1877; sold to Jonathan Peckover of Sibalds Holme, Wesbech Co., Cambridge, England; bequeathed to his daugter, Algerina Peckover (d. 1927); purchased by J.P. Morgan (1867-1943) at the estate sale of Algerina Peckover (London, Sotheby's, Dec. 12, 1927, lot 120).
Notes:
Ms. sacramentary for Rome use in Tuscany; calendar for use in the Church of San Salvatore in Ponte at Pisa; written and illuminated in Florence, Italy, ca. 1150-1160.
The calendar at the beginning of the manuscript was inserted ca. 20 years after its completion, and is of Pisan origin.
Written in the same workshop as Florence, Biblioteca Laurenziana, MS Plut. XVI and MS Conv. Sopp. 292--Cf. PML files.
Musical notation: neumes, said to be Beneventan, on fol. 205 and 206v.
Decoration: 2 large and 24 smaller historiated initials.