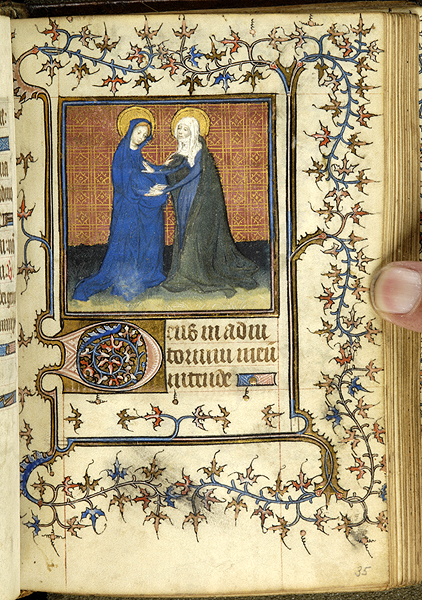 Created:
Nantes and Paris, France, 1402.
Binding:
French 16th-century brown morocco calf, gilt-tooled with 16th century dentellée pattern featuring an olive branch motif; the center piece of both covers frames a medallion stamped with emblems of the Passion, flanked by the letters F.D.D.
Credit:
Purchased by J. Pierpont Morgan (1837-1913) in 1912.
Description:
218 leaves (1 column, 12 lines), bound : vellum, ill. ; 140 x 100 mm
Provenance:
Made for Guillaume Mauléon (erased original provenance inscription on fol. 94: Ceste matines sont a Guileume Mauleon); owned in the 17th century by the Mazerie family (inscription of the names Esprit and Marianne Mazeyrie on fol. 4, 11, 20v, 209v, 210, and 216v; owned by an M.F. (monogram on the inside front cover, with the date 1827 and what may be the catalogue number (274); purchased by J. Pierpont Morgan (1837-1913) from Leo S. Olschki in 1912; J.P. Morgan (1867-1943).
Notes:
Ms. book of hours for the use of Nantes (Hours of the Virgin); written in Nantes, illuminated in Paris (?), France, in 1402.
Scribe and decorator: Yves Lucas; signed four places in the manuscript: on fol. 12v (Yvo Luce); on fol. 94 (Lucas); on fol. 150v (Lucas); and on fol. 216v, where he dated the manuscript (Y. Lucas. L'an mil iiii et ii furent escriptes et enlumines cestes matines a la ville de Nantes. Priez pour les trespasses que dieux les face merci. Amen).
Decoration: 11 half-page miniatures; many ornamental borders.
Artist: Master of the Coronation of the Virgin and Workshop.
Although the scribe wrote that the manuscript was written and illuminated in Nantes, scholars have pointed out that the Coronation Master worked in Paris. In addition, two border types on fols. 95r (a garland spiraling up a stem) and 153r (pots threaded along stem) are similar to those in manuscripts produced in Paris around 1400 (See, Millard Meiss, French Painting, 1974, pp. 104, 336, fig. 412).
Revised: 2015