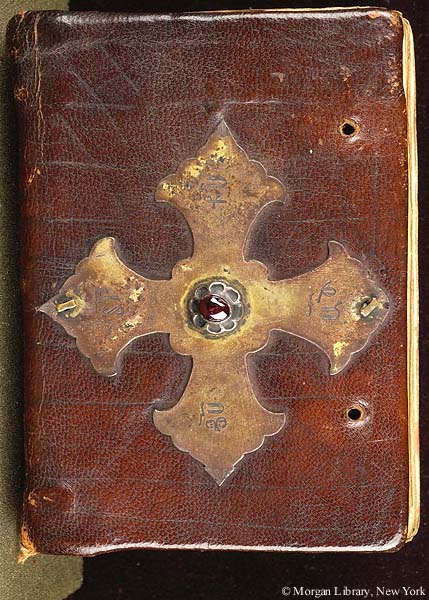 Created:
Isfahān, Iran, 1658-1659.
Binding:
Original traditional Armenian binding; dark brown leather over wooden boards with straps; blind-tooled with fillets; jeweled silver crosses attached to front and back covers; multicolored brocade textile doublures, perhaps silk; front and back doublures have the same design, but differ in color.
Credit:
Purchased by J.P. Morgan (1867-1943) in 1917.
Description:
280 leaves (2 columns, 23 lines), bound : vellum, ill. ; 140 x 100 mm
Provenance:
Commissioned by Khojay Safar Amirasatʻentsʻ (Khojay Safar Amirasatʻentsʻ, son of Khojay Nazar) of the Armenian community of New Julfa; purchased by J.P. Morgan from P. Tonapetean (P. Tonapetian) in 1917.
Notes:
Ms Gospel book; written and illuminated in New Julfa (Isfahān, Iran) in 1658 and 1659.
Scribes: Yovhanēs, who began the manuscript and who signed the colophon on fol. 223 (which is dated 1658), and Awetikʻ Abeghay, who signed the pricipal colophon on fol. 278-280 (which is dated 1659).
Decoration: 20 full-page miniatures; 8 canon tables with headpieces, marginal figures, and ornament; 2 Eusebian letter pages with historiated headpieces and Evangelist symbols; marginal and initial ornament throughout.
Artist: probably Awetikʻ Abeghay.