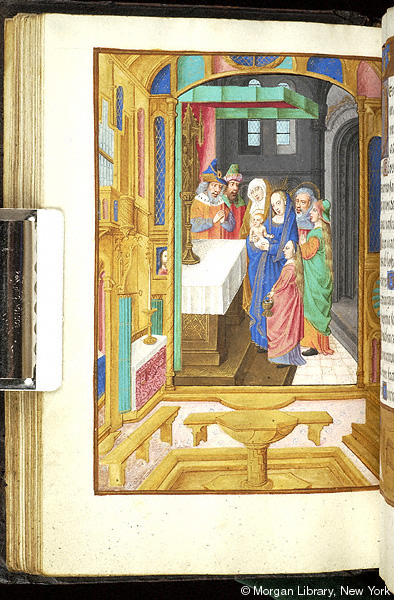 Created:
Bruges, Belgium, ca. 1500.
Binding:
16th-century brown calf by Louis Bloc, with four rectangular stamped panels on each cover containing stags, monkeys, squirrels, hedgehogs, and other animals in interlacing vine branches.
Credit:
Purchased by J. Pierpont Morgan (1837-1913) in 1910.
Description:
197 leaves (1 column, 17 lines), bound : vellum, ill. ; 230 x 170 mm
Provenance:
Executed for Jean II Carondelet (1468-1544), archbishop of Palermo, primate of Sicily, Chancellor of Flanders (initials: I.C.; motto: matura; arms: azure a bend or, 6 besants of the same, 3 and 3, painted in the margins of 8 miniatures and in the initial on fol. 123); later in the collection of Dr. Hasenclever (19th century); purchased by J. Pierpont Morgan (1837-1913) from Gruel in 1910; J.P. Morgan (1867-1943).
Notes:
Ms. book of hours for the use of Rome (Hours of the Virgin); written and illuminated in Bruges, Belgium, ca. 1500.
Decoration: 17 full-page miniatures, 32 small miniatures, borders with flowers, animals, and drolleries.
Artist: attributed to the Master of Sir George Talbot, an artist who illuminated a prayer-book for George Talbot, earl of Shrewsbury and knight of the Garter, ca. 1500 (Oxford, Bodleian Library, MS Gough Liturg. 7).