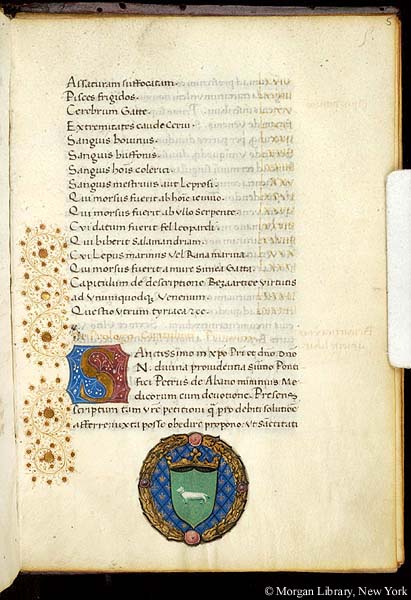 Title:
Medical manuscript for Charles VIII
Created:
Italy, between 1490 and 1500.
Binding:
Original dark red morocco over oak boards, stamped and gilt.
Credit:
Purchased by J. Pierpont Morgan (1837-1913) in 1912.
Description:
38 leaves (1 column, 25 lines), bound : vellum, ill. ; 200 x 150 mm
Provenance:
Made for presentation to Charles VIII of France by Franciscus Pamoleus of Genoa; L. Donini Regimontani D. Medici (1633?; inscription on first flyleaf); owned by Courtoys (ca. 1680; inscription on end pastedown); Simon Brigault and Agnau Brigault (ca. 1780; inscription on end pastedown); purchased by J. Pierpont Morgan (1837-1913) from Leo S. Olschki in 1912; J.P. Morgan (1867-1943).
Notes:
Ms. written and illuminated in Italy between 1490 and 1500.
Texts: dedicatory address to Charles VIII (fol. 1-3); Petrus de Abano's De veneris (fol. 3v-33); Franciscus Pamoleus's De lapidibus (fol. 33-36v).
Decoration: 2 floriated initials with marginal scrolled extenders; a coat of arms; a green shield bearing an ermine (the shield set on a blue background covered with gold fluers-de-lis in diamond compartments and surmounted by a gold crown, the whole encircled by a gold wreath).