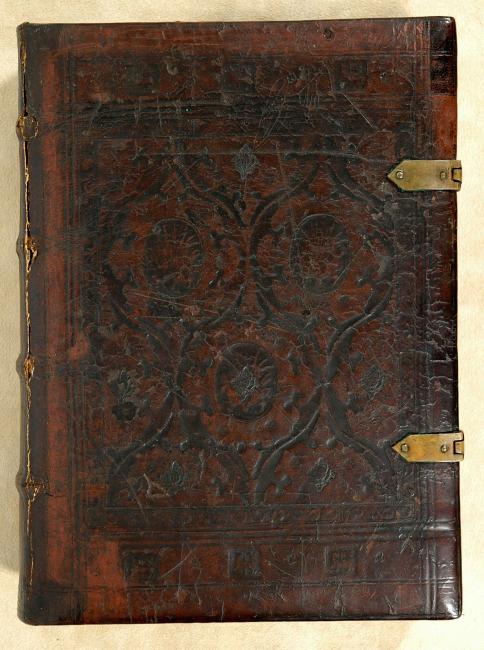 Published:
Cologne : Johann Koelhoff, the Elder, 1472.
Description:
[308] leaves ; 29 cm (fol.)
Credit Line:
Purchased by J.P. Morgan, Jr., 1922.
Notes:
Title from incipti (leaf a[1]r): Incipit prologus in expositionem decalogi secundum fratre[m] Joha[n]nem Nider sacre theologie p[ro]fessore[m] ordinis p[rae]dicator[um]. ... Incipit p[rae]cetporiu[m] divine legis.
Imprint from colophon (leaf mm8v): Explicit preceptorium divine legis fratris iohannis Nider sacre theologie professoris eximii. ordinis predicatorum. conventualis Nurenbergensis. Impressu[m] Colonie per magistrum Johannem koelhof de lubick. Anno. .D[omi]ni. .M. .cccc. .lxxii.
Printed in Koelhoff's type 1:98aG.
Collation: [1-2¹⁰ 3⁸] a-z⁸ aa-mm⁸: 308 leaves. Leaf a1 blank; leaf a2 unsigned, leaf a3 signed a2.
Paper format: Chancery folio
This is Koelhoff's first dated book.
PML copy leaf dimensions: 29 x 20.7 cm.
PML copy missing 1 leaf: a1 (blank); leaves [1]/1-[3]/8 (tabula) bound last. Quire y misbound after quire z.
Binding:
15th-century blind-tooled calf over wooden boards (29.4 x 21.5 cm), sewn on 4 supports, in Cologne by the Sankt Georg workshop (EBDB w002491); rebacked. Plain paper pastedowns and fly leaves; plain endbands. 2 clasps, arrow-shaped, with brass reinforements (cut down square foliate bosses) on bottom board.
Inscriptions/Markings:
Hand decoration: Rubricated, red and blue alternating lombards with negative-space decoration, red paragraph marks and capital strokes; red and blue interlocking initial with green foliate decoration (leaf a[1]r). Annotations: Some contemporary marginal notations in several hands, generally near beginning; extensive notation (leaf aa6r).
Provenance:
Guy de Semallé (1852-1930), Ex libris M. L. R. de Samareio, Bibliothèques de Semallé et de La Gastine, armorial bookplate (front pastedown; see Meyer-Noirel, Répertoire général des ex-libris français, tome 18); J.P. Morgan, Jr. (1867-1943), purchased from Giuseppe Martini, December 1922.