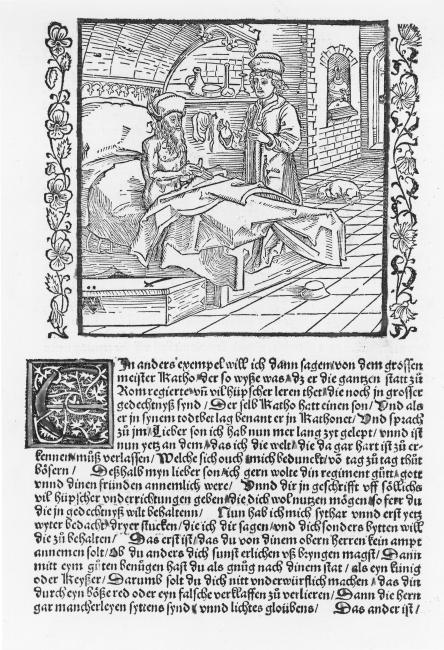 Published:
Zů Basel : durch Micheln Furter, in dem jor nach Christi geburt .M.cccc.xciii. jor gedruckt [1493].
Description:
[74] leaves : illustrations (woodcuts) ; 29 cm. (fol.)
Notes:
Title from half-title page, leaf A1r.
Imprint from colophon, leaf M5v: Der Spiegel der Tugent und Ersamkeyt/ durch den hochberümten Ritter vo[n] Thurn mitt schönen unnd kostlichen hystorien und Exe[m]pel/ zů underwysung syner kind/ in Frantzosischer sprach begriffen/ und durch den Edlen fürnemen un[d] Strengen/ hern Marquart vom Steyn Ritter/ und Landtuogt zů Montellicart/ in tütsch transferiert unnd gezogenn/ Zů Basel in dem jor nach Christi geburt .M.cccc.xciii. jor gedruckt durch Micheln Furter endet sich seliklich Amen. 1493. Nüt on ursach [in scroll]. IB.
Printed in Furter's types 3:180G and 4*:94G.
Initials IB at end of colophon for Johann Bergmann.
Signatures: A⁸ B-M⁶: 74 leaves, leaf M6 blank.
Paper format: Chancery folio.
1 column, 44 lines. Printed initials.
Translated by Marquart von Stein.
46 woodcuts from 45 blocks (title page illustration repeats).
PML copy leaf dimensions: 28.3 x 19 cm.
PML copy missing 1 leaf: E6, replaced in facsimile.
Binding:
Contemporary German blind-tooled calf over wooden boards (29 x 20 cm.), sewn on 4 supports, possibly bound at Cologne/Lower Rhine region; rebacked with sewing, supports, fly leaves and endbands renewed. 1 clasp. Manuscript waste pastedowns, front removed.
Inscriptions/Markings:
Hand decoration: Red underlining, highlighting of woodcuts, and capital strokes. Annotations: No marginal notations in text. Mid-16th century German notes, faded/partially illegible (leaf M6r).
Provenance:
C.W. Dyson Perrins (1864-1958), bookplate (front fly leaf); his sale, Sotheby's London, part III, 10 March 1947, lot 646, to Morgan via Rosenbach; Pierpont Morgan Library, purchased in 1947.